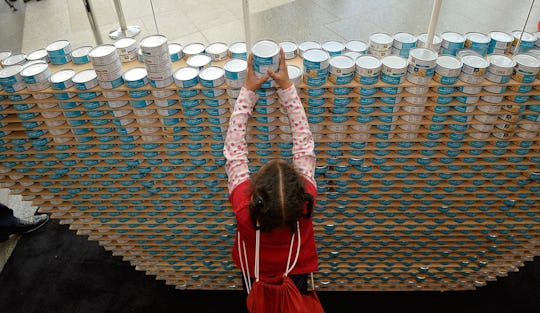 Grant Halverson/Getty Images Entertainment/Getty Images
Should You Throw Out Your Recalled Tuna Or Return It? That Depends On The Brand
Remember that famous Clint Eastwood, Dirty Harry line? "You've gotta ask yourself one question: Do I feel lucky? Well, do ya, punk?" Tuna lovers all over North American are asking themselves just that question this week, as news that three different brands of canned tuna had been recalled hit headlines (and I don't know about you, but it's making this girls lunchtime decisions a little harder.) Of course, consumers are also likely asking themselves another important question: Should I throw out the recalled tuna or return it to the store for a refund?
Well, the first thing consumers should probably do is check whether or not their tuna has been affected at all. According to FDA website, three different brands have issued recalls. Bumble Bee, Chicken of the Sea and now Hill Country Fare have each announced a voluntary recall of certain cans of chunk light tuna. The product codes and individual expiration dates can all be found on the FDA website.
Now here's some good news to keep you from panicking and rummaging through your cupboards like it's end of days: Each of the three recalled brands were manufactured at the same processing facility, according to a report by CNN. Which means the issue lies with the manufacturing process, not the product itself.
As Texas-based grocery chain H-E-B revealed in a press release when it announced it's intention to recall Hill Country Fare Chunk Light Tuna In Oil on Monday,
This recall has been initiated because the product, produced at a co‑packer, may have been undercooked due to an equipment malfunction, which was uncovered during a routine inspection. These deviations were part of the commercial sterilization process and could result in contamination by spoilage organisms or pathogens, which could lead to life‑threatening illness if consumed. There have been no reported illnesses to date, H‑E‑B is issuing this voluntary recall in abundance of caution to ensure the highest level of food safety and quality.
So no one has gotten sick, guys. Not yet. The tuna big wigs have been pretty quick to get things under control, by the looks of things. And what do you do if you happen to have one of those pesky cans of recalled tuna? According to the FDA, you can probably just toss it. "Confirm that the product you have is one of the products listed above by checking the product and the lot code, [and] once you've confirmed that you do have a recalled product, please discard the product by disposing in the garbage," Bumble Bee wrote in an official statement on its website this month." A spokesperson advised customers to "retain the label from the can or have other proof of purchase" in order to obtain reimbursement.
However, Tri-Union Seafoods, the makers of Chicken of the Sea, have advised consumers to simply return the cans to the supermarket. "Consumers may return the product to the store where they purchased it for a full refund," a spokesperson wrote in an FDA release. An H-E-B spokesperson also advised consumers to return the cans of recalled tuna to the store where they were purchased for a full refund, in a similar FDA statement.
This weekend, make sure to rummage through your cupboards to find out if whether you need to toss those tuna cans or take them back to the store. With any luck, you might be able to get some of your hard-earned money back.