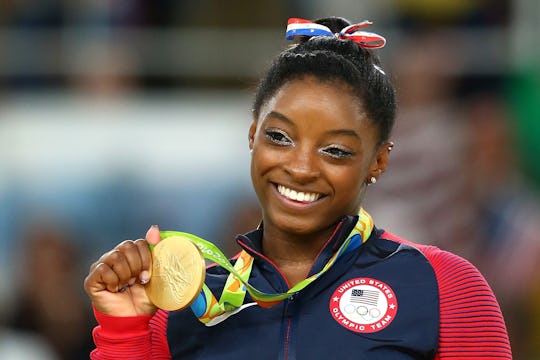 Alex Livesey/Getty Images Sport/Getty Images
Simone Biles Has A Couple Name With Zac Efron And Now This Relationship Needs To Happen
If you don't know the name Simone Biles by now, you were probably living under a rock this summer. Biles absolutely dominated the gymnastics competition at the 2016 Rio de Janeiro Olympic Games, taking home a whopping five medals, four of which were gold and don't you forget it. Fans were worried they'd be going through a massive Biles withdrawal after the Olympics came to a close in August. Thankfully, Biles recently revealed she has a couple name with Zac Efron (who doesn't!?) so wre talking about her once again and, well, t's clear this relationship needs to happen.
Of course, the 4'9 gymnast is not defined by her Efron Crush. She has been everywhere ,it seems, over the past few weeks. From dominating on Lip Sync Battle to hitting the red carpet at the VMAs; Biles has been living it up. She's become such a star that Vogue tracked the gold-medalist down at her home gym, all the way in Texas, for an episode of their rapid-fire "73 Questions" series. She told the reporter a ton of interesting tidbits about her life while rocking one of her fabulous leotards.
Of course, it's no secret that Biles has been crushing on Efron for a while. She told Ellen Degeneres about her love for the High School Musical star back in March. The talk show host responded the way any rational person would, and gave Biles a leotard covered with Efron's face and abs. I like to imagine she went home and put it on her life-size cardbord cutout of the actor that she reportedly keeps in her room.
Unlike the majority of Efron fan-girls, Biles love for him did not go unnoticed. The two started a sweet friendship over Twitter, with Efron often congratulating Biles on her many accomplishments. The duo finally got to meet in August after Efron came down to watch some of the Olympic events. Biles naturally documented the whole thing on Snapchat because, you know, she's a normal teenager after all. The two have kept in touch since and Simone told Vogue their couple name would be "Zimone." She also described the perfect first date for "Zimone." (It's breakfast on the beach, FYI.)
Those were only 2 out of 73 interesting facts Biles revealed to Vogue. The gymnast got real about her favorite Disney princess (Ariel), what show she's binge watching on Netflix (90210), and what her spirit animal is (honey badger). She said she's dying to meet Jennifer Lawrence because they both fell during major career moments; Lawrence at the Oscars and Biles at the Olympics. Maybe these two will have as an epic meeting as "Zimone" did back in August.
Biles' charisma was on point when the interviewer asked how he could get her hard earned abdominal muscles. The Olympian gave him a wide grin and simply told him "you can't." Tell him, girl.