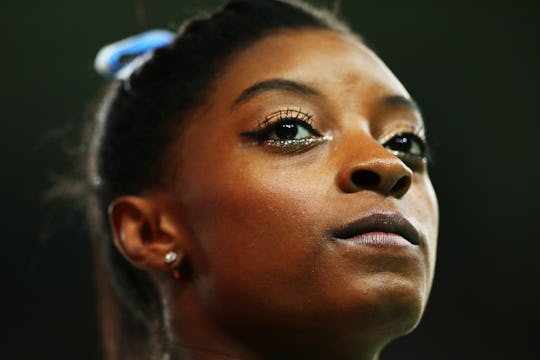 Alex Livesey/Getty Images Sport/Getty Images
Simone Biles Says She Won't Be Compared To Anyone Else, & Her Words Are Powerful
There's this odd societal, often misogynistic, habit of constantly comparing outstanding woman athletes to someone else – and often times that someone else is a man. And sometimes comparisons make sense, like, a strict comparison of athletic performances (man or woman) can be fair game. But unnecessarily inserting a man's achievements into a conversation focused on celebrating the achievements of a woman athlete can be diminishing. And Simone Biles says she won't be compared to anyone else. Her words are powerful. The Olympic gold medal winner understands that comparisons can be problematic.
On Thursday, a 19-year-old Biles won the women's individual all-around gold medal at the Olympic Games in Rio. She's widely, and undoubtedly, viewed as the world's best gymnast — a title that does not warrant an attachment to other Olympic athletes.
In an interview following her unforgettable performance, Biles poignantly remarked on how she should be viewed instead. "I'm not the next Usain Bolt or Michael Phelps," Biles said, according to Omnisport. "I'm the first Simone Biles."
Absolutely.
Biles' achievements have nothing to do with the achievements of male athletes. Why is it important to stress this point? Just take a look at an initial headline on Simone Manuel, the first black woman to win an individual event in Olympics swimming: "Michael Phelps shares historic night with African-American."
Not only was Manuel, 20, not given the appropriate historic observation she more than deserved, (you know, beating an Olympic record in swimming and all) she was robbed the opportunity to even be referred to by name. Recognition of Manuel's black identity is important, considering the history of systemic racial discrimination in swimming. But she is an incredibly talented and strong athlete, period. Simone Manuel, that's her name.
The publication has since tweeted an apology for its initial "insensitive headline," after re-publishing a few other headline edits. An editor's note was included at the end of the article:
The original headline on this story was insensitive and has been updated to acknowledge the historic gold medal wins by both Simone Manuel and Michael Phelps. We apologize for the original headline. The story has also been updated.
Biles, standing at 4 feet 5 inches tall, became the first woman in 20 years to win back-to-back world and Olympic all-around titles. After winning her now second gold medal at the Rio Olympics - she helped her team take take home a gold medal earlier this week – Biles said she was overwhelmed by emotion:
"Every emotion hit me at once so I was just kind of a train wreck," Biles said, according to the Olympics website. "Everything was going through my head but mainly it was like I had finally done it and when that hits you, you can't really stop the emotions."
She's certainly the "first Simone Biles," no doubt.