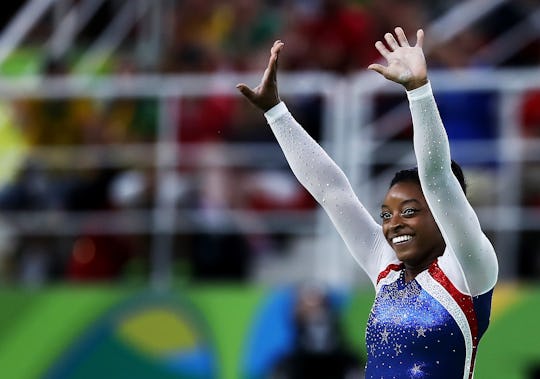 Elsa/Getty Images Sport/Getty Images
Simone Biles Wins Rio All-Around Competition & Makes Us All Proud
So there are a few things people love about Simone Biles. First off, her leotard game is legit. Then there's the whole team spirit thing; Biles has a reputation for being a great friend as well as a fierce competitor. Which brings me to another thing people love about her; she's insanely good at what she does. And what that girl does like nobody else in the world right now, is gymnastics. Simone Biles won the All-Around competition in Rio, and her fans couldn't be more proud of her.
Biles has competed essentially uncontested for quite some time, and the 2016 Rio Olympics were no different. As of the final rotation of the All-Around Individual competition on Thursday, she was first in the standings with a score of 46.265 over Russian gymnast Aliya Mustafina who trailed Biles with a score of 44,732. A comfortable lead, of course, but Biles is a fierce competitor and brought her A game to her floor routine. She handily won the gold medal... and as ever, she did it with grace and a sweet smile. Because a fierce competitor Biles might be, but that doesn't mean the girl doesn't know how to be a total sweetheart while mopping the floor with her competition in true bad ass style.
Topping off an exciting day of competition, things got even better: Coming in second place, just shy of her teammate, was Aly Raisman, who finished the afternoon with a stunning floor routine, capping her score at 60.607. Both women were rightfully emotional.
Team USA coordinator Martha Karolyi, of course, has known of Bile's potential in particular for a while. She told TIME,
Simone brings a bubbly personality. In order to get to this level of gymnastics, not everything works out. Sometimes we have difficulty, but we have to push through. If you have a positive outlook, a bubbly personality like Simone, it is always a great contribution.
The Spring, Tex. native was raised by her grandfather, Ron and his wife, Nellie after her mother was unable to raise her and her little sister, Adria, due to an unfortunate drug addiction. Clearly, Ron and Nellie did one hell of a job bringing up their granddaughter. Because while some people might be shocked at her upbringing, Biles takes it all in stride.
To me it's normal. When I was younger, I thought every kid was adopted because that's all I've known. I have everything I need, so I never felt the need to have answers for what happened.
While the world will continue to be amazed by the sheer power of her talent and the precision of her routines, I think I will always remember this; a young woman being embraced by her teammate while she wept and smiled after winning the Olympic gold. Not a shred of arrogance or entitlement. Just a great person who worked hard and earned her reward.
Congratulations, Simone Biles.