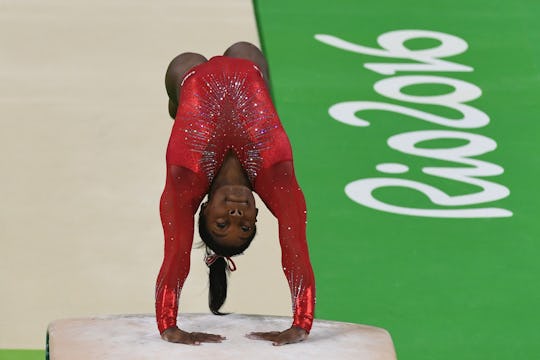 TOSHIFUMI KITAMURA/AFP/Getty Images
Simone Biles Wins Women's Vault In Rio & It's Her Third Gold Overall
No one is surprised, but everyone (probably) is impressed and wowed: Earning her third Olympic gold medal in the sport she absolutely dominates, gymnast Simone Biles won the women's vault in Rio Sunday afternoon. The 19-year-old powerhouse literally catapulted herself one medal closer to her goal of claiming five golds for the United States during these Games. Having already obliterated her competition in both the team and individual all-arounds last week, Biles has proven she's earned the unofficial title of most talented gymnast ever, one of many accolades endowed upon by those who know the sport well — and those of us who can simply recognize greatness when we witness it.
On Thursday, Biles and American teammate Aly Raisman won gold and silver, respectively, in the individual all-around, an event that includes performances on the balance beam, uneven bars, floor exercise, and vault. Raisman is among the best gymnasts in the entire world, but Biles still beat her out by a stunning 2.1 points — a wider margin that any between 1980 and 2012 combined. Likewise, Biles again demonstrated her prowess on the vault specifically with a score of 15.966. Second-place winner Maria Paseka of Russia boasted a score of 15.253, and Switzerland's Giulia Steingruber earned bronze with 15.216 points.
Eight of the best gymnasts in the game today sought to outperform and outscore Biles in each of their two turns on the vault. According to NBC, Hong Un-Jong of North Korea tried a "triple-twisting Yurchenko," an incredibly difficult series of rotations that she ultimately couldn't complete. And 41-year-old Oksana Chusovitina of Uzbekistan attempted to perform two tricky front flips, hoping to get onto the podium at her seventh Olympics. She was not successful, and placed seventh.
Biles, though, was all but flawless, scoring a 15.900 for her first vault and a 16.033 for her second to make up her winning average. And after she delivered a near-perfect vault performance during the team all-around last Sunday, this outcome seems like somewhat of a foregone conclusion. I mean, just look at her:
Her magic and impressive athleticism are why Americans are going nuts over her during her debut Olympics, some even convinced that she, like merman swimmer "23 gold medals" Phelps, may be superhuman.
In fact, Biles' win today makes her the first American woman to win the vault in the Olympics and also the first gymnast to win three golds in the same Olympics, according to the Los Angeles Times. Biles doesn't just set records, though; she smashes them. So, she's heavily favored to win both the beam on Monday and floor on Tuesday. She's gonna do it, you guys, and we've really, really never seen anything like her. That's why she was definitely right when she said, "I'm not the next Usain Bolt or Michael Phelps. I'm the first Simone Biles."