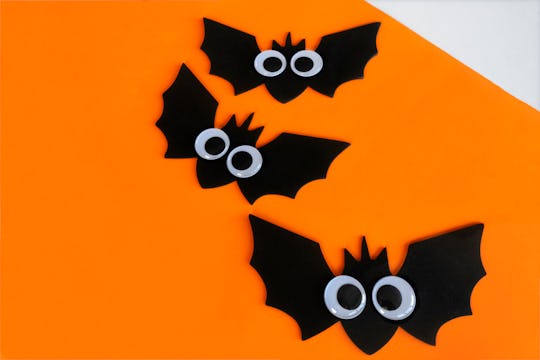 Marie Hickman/Photodisc/Getty Images
13 Simple Halloween Crafts For Kids While Everyone Is Stuck At Home
Everyone knows that one of the scariest things about Halloween this year is that many of us are still stuck at home with remote learning. (Forget that maze in The Shining. Make Jack Nicholson try the maze that is Google Classroom. Redrum, indeed...) And if you're like me, you're desperate for fun ways to fill the hours at home. So why not do a bit of Halloween crafting? I've rounded up 13 super simple Halloween crafts to help kill some time while we're all trapped in our houses and missing on some favorite traditions.
"But I'm not crafty!" you say. Well, yeah, I am also a bit like an octopus in oven mitts when it comes to a glue gun. But no matter! We don't have to open an Etsy store! The point is just to get creative and keep those little hands busy, on theme, and not constantly reaching for the TV remote or iPad.
I've rounded up some cute and easy crafting ideas below. Some might require a little online shopping, or picking up some mini-pumpkins at the grocery, but many can also just be done with stuff sitting around at home. (After a summer of turning empty toilet paper tubes into rockets, subway trains, and insects, I now view each cardboard roll as a future vessel upon which to glue pipe cleaners or googly eyes.)
Now, on to the spooktacular crafts...