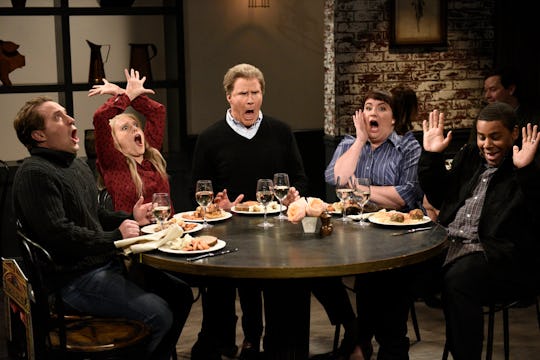 Will Heath/NBC
'SNL' Tackled The Aziz Ansari Allegations & Twitter Had Some Thoughts
On Saturday night's episode of SNL, the show tackled a certain article from Babe.net... you know the one. The whole joke of the skit (also starring host and SNL legend Will Ferrell) was that it's almost impossible to talk about this without making it awkward or saying the wrong thing. SNL addressed the Aziz Ansari allegations and they made a lot of really relatable points. A lot of people seem to be struggling with this right now.
For the unfamiliar, the article on Babe.net described how one woman, known only by the pseudonym "Grace," felt after a date with Ansari. She accused Ansari of alleged sexual misconduct and went into detail about the night's events. Romper has reached out to Ansari's rep regarding the allegations but has not yet received a response.
Ansari has released a statement, confirming the basic outlines of the date, but also stating that the sexual activity was "by all indications was completely consensual." Ansari's statement further said, "It was true that everything did seem okay to me, so when I heard that it was not the case for her, I was surprised and concerned. I took her words to heart and responded privately after taking the time to process what she had said." Ansari also said that he continues to support the movement, calling it "necessary and long overdue." That doesn't mean that people know how to talk about it, though. SNL hilariously parodied this struggle and Twitter ate it up.
The sketch opened with six friends enjoying a nice friendly dinner at a well-reviewed restaurant they all love. That is, until one friend (played by Heidi Gardner who is, by the way, killing it this season) said, "Did any of you guys read that op ed piece about —" but she was cut off by her partner saying, "Honey, no." When she did finish and said, "Aziz Ansari," the camera panned to the whole table's stunned and terrified faces. But bravely they agreed to talk about it. "Well it's come to this. I'll go first," said Kate McKinnon, to which Ferrell asked, "Are you sure you wanna do this?"
Each character successively attempted extremely slowly and awkwardly to open the conversation, but with no success. After a few words other characters interrupted with, "careful..." or "watch it..." with the warnings getting more serious and more anxious the closer someone came to saying something controversial. But then Beck Bennett's character hesitantly blurted out, "The thing that I keep going back to is, it seems like if she wanted to leave she could have just left," which resulted in a wide range of reactions from his dinner companions. Some tried to disappear, others attempted to stab themselves or face-plant into their meals. McKinnon said, "We're in a post-Babe.net universe now and we have to finish what we started."
Twitter found all of this extremely relatable since nobody wants to say the wrong thing when talking about a subject as complicated and important as consent. But McKinnon's character was right. We have to talk about this. When Bennett's character asked why the woman couldn't just leave if she wanted to leave, the whole table freaked out, because he said the exact thing everyone was afraid he would say. This kind of question puts the onus on women to stop sexual assault instead of the other way around — and explaining that is just really heavy for casual dinner conversation. The beauty of this sketch is that it managed to convey that so efficiently (and humorously).
But no matter how awkward they get, everyone is probably going to be looking forward to a lot more of these conversations in the future. And that's actually a good thing.
Check out Romper's new video series, Romper's Doula Diaries:
Watch full episodes of Romper's Doula Diaries on Facebook Watch.