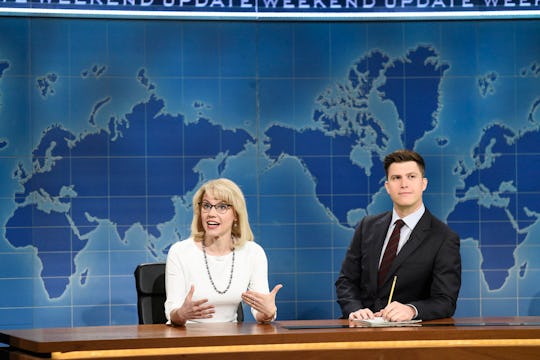 Will Heath/NBC
'SNL' Took On Betsy DeVos' '60 Minutes' Interview & Did Not Hold Back
Saturday Night Live has never been known for holding back and this latest episode was no different. After an opening skit focusing on the round-the-clock-firings in President Donald Trump's administration, SNL's Kate McKinnon added Betsy DeVos to her repertoire once again. During last night's "Weekend Update" segment, SNL took on DeVos' recent 60 Minutes interview after the secretary of education visibly struggled to answer basic questions about policy.
In the best opportunity she had to repair her public image since endless protests and critiques, DeVos was recently invited to appear on 60 Minutes. The segment, with CBS News' Lesley Stahl, aired on March 11 and the strain between the two was clear throughout the interview.
The interview was picked up by the media and those on Twitter as yet another time DeVos dug her own hole and became a perfect jumping point for SNL's "Weekend Update". The short comedy sketch opened up with host Colin Jost asking why the interview went so poorly. "Well," McKinnon as DeVos replied, "I think the problem is that the words that were coming out of my mouth were bad. And that is because they came from my brain."
While analyzing public schools versus charter schools, McKinnon went on to say in the segment:
I don't like to think of things in terms of school. It should be up to the states. In Wyoming, for example, which has many potential grizzlies, there should be a school for bears. And in Louisiana, crocodile crossing guards. And in North Carolina, stop being trans, and that's what's best for them.
The sketch went on to tackle the administration's plans to arm teachers. In the 60 Minutes interview, DeVos, had said the decision should be left up to each state, according to The Hill. But that doesn't change the fact that the White House's commission, which DeVos will chair, to end school violence focuses on arming teachers nationwide, as CNN reported.
McKinnon said as DeVos during the SNL segment, smiling widely: "We are working hard to ensure that all schools are safe learning environments for guns."
SNL's official Twitter sent off a tweet celebrating McKinnon's impersonation of DeVos and Twitter seemed to agree.
Twitter's reactions aren't surprising considering that, in November 2016, DeVos' nomination for the role of secretary of education was met by widespread confusion and criticism. In her home state of Michigan, DeVos was well known for promoting private charter schools, criticized by the American Civil Liberties Union (ACLU) as "elevating for-profit schools with no consideration of the severe harm done to traditional public schools," according to the BBC.
But the biggest, and most ironic, critique that DeVos faced came from teacher unions and the public alike: she had zero experience working with children or within public education as a whole, according to Business Insider.
After barely securing the vote for election, communities across the country didn't shy away from loudly disclosing their opinions of DeVos. When she tried to visit Jefferson Middle School Academy last February, CNN reported that DeVos was blocked by protesters. And, while speaking at the historically black college Bethune-Cookman's commencement, the Los Angeles Times reported that students stood and turned their backs on the new secretary of education.
Now, after the tragic school shooting Parkland, Florida, as DeVos shared during her 60 Minutes interview, the White House plans to back a new Justice Department program that would train teachers and school personnel to carry firearms in order to curb school violence, according to Politico.
With survivors school shooting promoting safer gun legislation and students walking out nationally, the decision came like a slap in the face. Along with promoting increasingly dangerous school environments for students of color, teachers spoke up to clarify that being armed in school. It was the last thing any of them wanted.
In the 60 Minutes interview, DeVos began the conversation by citing her greatest achievement, scaling back the "overreach of federal government in public education". Stahl then pointed out that they were currently in DeVos' home state, operating under DeVos' influence, schools were functioning at a low.
"The whole state is not doing well," Stahl stated, going on to add, "No, but your argument that if you take funds away that the schools will get better, is not working in Michigan where you had a huge impact and influence over the direction of the school systems here." When asked if she knew the reasons why specific Michigan schools were underperforming, DeVos admitted that she had never visited those schools herself.
DeVos hasn't fared well with media in the past and this recent segment doesn't bode well for the future. And while DeVos claims to plan on leaving decisions to arm teachers up to each state, only time can tell what exactly she'll do with her new position as commission chair... and what else SNL could inevitably target in the future as well.
Check out Romper's new video series, Romper's Doula Diaries:
Watch full episodes of Romper's Doula Diaries on Facebook Watch.