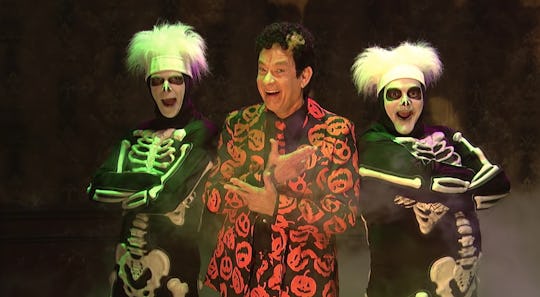 Saturday Night Live/YouTube
'SNL's Best Halloween Episodes & Skits That Will Definitely Leave You Laughing
Halloween is the absolute best and pretty much the only time of the year when I actually miss being a kid. Because kids get to have the most fun on Halloween... or so I thought, before I remembered that little kids might get to go out trick-or-treating and dress up as ghouls and such, but adults get Saturday Night Live. That might not always feel like a consolation, but when you check out SNL's best Halloween episodes and skits, you'll see what I mean. Being an adult can be sort of awesome sometimes, and it's not like you can't just go ahead and buy your own candy, right?
One of the most brilliant things about the skit show, which has actually been going on since October 1975 (just in time for Halloween that year), is that it stays relevant. This is no small feat considering the format of the show; it's filmed live on Saturday nights with special guest appearances by actors and musicians who, let's face it, don't always exactly hit it out of the park. Because being funny isn't their job most of the time, which means the skits have to be strong enough to power through frequently awkward performances.
Fortunately there are some performers who seem to relish the format. And this is how you get completely hilarious Halloween skits.
"Halloween Candy" 2013
Back in 2013, acclaimed actor Edward Norton was a guest on the Halloween episode. Sure, he might be known for his seriously intense roles in movies like American History X, but here he's just perfect as a father who shares the contents of the treats he's going to pass to neighborhood children. Like the peanut he taped to an M&M because "that's just how my mind works." Special guests include his son Diego dressed as "bones" and an adult Ruth to go along with his candy Baby Ruth.
"David S. Pumpkins" 2016
I'm going to go ahead and assume that everyone's heard of David S. Pumpkins, a character created by nine-time SNL host Tom Hanks. I don't know why David S. Pumpkins dancing in an elevator with two skeletons is funny, but it just is and I've decided not to question it. Also, can everyone just appreciate that Tom Hanks goes all in every time?
"Stuart Smalley's Halloween Affirmations" 1992
Stuart Smalley's daily affirmations were a comedy staple in the '90s, and his Halloween affirmation was probably his best ever. Smalley was apparently worried about enabling sugar addicts; "so, instead of candy this year, I've decided to give out rice cakes. A few kids might be disappointed, but that's... OK. It's their problem."
"Geoff's Halloween Emporium" 2014
Jim Carrey's 2014 Halloween special was one for the history books. He managed to pull off several great skits, including this commercial for Geoff's Halloween Emporium where he plays owner Geoff, a man possessed by a demon who frightens exactly no one. As funny as Carrey is in this skit, the real heavy hitters are cast members Cecily Strong and Vanessa Bayer as fed up employees.
"Vincent Price's Halloween Special With John F. Kennedy" 2010
Bill Hader plays Vincent Price, Jon Hamm plays John F. Kennedy... it's retro Halloween gold.
"Graveyard Song" 2014
A young couple are hanging out in a graveyard on Halloween night when the trees and statues come alive and start singing. Also Paul and Phil, two buddies who died together and like to wear plaid shirt jackets, are there to sing for them. Another Jim Carrey, another weird skit I almost forgot about.
This is the beauty of SNL Halloween skits. When done well, you don't really know why they're so funny. They just are.
This article was originally published on