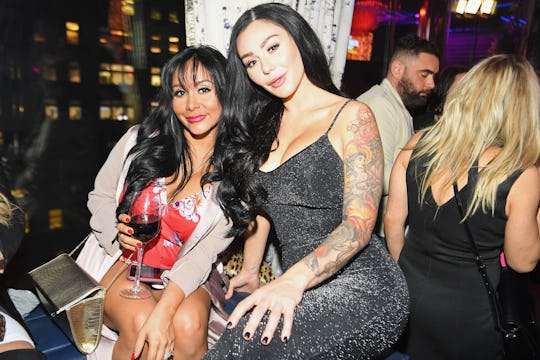 Dave Kotinsky/Getty Images Entertainment/Getty Images
Snooki & JWoww Got Candid About Their Experiences With "Mom Guilt" & How They've Coped With It
Nicole "Snooki" Polizzi and Jenni "JWoww" Farley's lifestyles have certainly changed a lot since Jersey Shore debuted on MTV in 2009. In addition to their evolving careers (which includes co-starring in the Jersey Shore spinoff Snooki & Jwoww: Moms With Attitude as well as this year's Jersey Shore Family Vacation), both reality stars are now mothers. In a recent interview with People, Snooki and JWoww got candid about experiencing "mom guilt" while filming the Jersey Shore reboot, and it's clear that they both have mixed, but strong feelings on the controversial phenomenon.
For Jersey Shore Family Vacation, Snooki and JWoww had to be away from their children for the duration of filming, which lasted a little more than three weeks. Snooki is mom to Lorenzo, 5, and Giovanna, 3, while JWoww has Meilani, 3, and Greyson, who is almost 2. When People asked how they coped with "mom guilt" during filming, JWoww succinctly replied: "Alcohol." Snooki concurred, adding that FaceTime made things a little better. "Basically alcohol. FaceTime was good for the kids, but it was way worse for me and Jenni," she told People. "We would cry with each other."
While they may have made the alcohol comments jokingly — it should be noted that the Centers for Disease Control and Prevention advises against using alcohol to cope with stress — there's probably some truth to them. Alcohol is pretty heavily-featured on the original Jersey Shore (and, as I can imagine, in the reboot as well).
Snooki further elaborated on using alcohol as a coping method, explaining how much she missed her kids while filming. She told People that by the second day of filming, "I was like 'Oh my God, we have three more weeks here and I already miss them.'"
JWoww added that as long as she was distracted, she was able to focus on having fun and put missing her kids on the back burner. "If I keep thinking about the kids, then I'm going to get upset and I'm going to ruin everyone's time," she explained to People. "So there is a time where I flip the switch: They're good, they're having fun, they're with their dad. Everything's fine."
If you're unfamiliar with "mom guilt," sometimes known as working mom guilt, it's the idea that a mother should feel guilty when away from her child. While the feeling of missing your kids and wishing you were with them is totally normal, many are critical of the term for a number of reasons. No mother should be pressured to feel guilty for spending time away from her child, whether it's for work, spending time with friends or self care, or for anything else. Furthermore, the phrase "dad guilt" is much less common than its counterpart, proving that the idea of "mom guilt" stems back to the idea that mothers have to be their child's primary caretaker.
Even though they have experienced mom guilt, Snooki and JWoww have made it clear that balancing motherhood with their very fun private lives is a priority for both of them. Snooki told People:
Me and Jenni always stress that even though you are a mom, it doesn't mean you are dead. I always say, you need to just get out once in a while and just find yourself and be you. I feel like that makes you be a better mom.
JWoww agreed, explaining that she works to fight the stigma that moms can't have fun. "There is just this stereotype that Nicole and I love to shut down and prove that you can be a phenomenal mother, but at the same time you can find time for yourself and it's okay," she told People.
Snooki and JWoww have commented on finding the right balance as a mom on several occasions in the past. In a recent interview with E! News, JWoww said, "Your kids will always come first, and I actually don't like going out. I'd rather spend my Friday and Saturday nights with my children, watching Rapunzel or Tangled."
In a different interview with E! News last month, JWoww further elaborated on the stigma against working, fun-loving moms. "I actually wanted to do this show for myself to get rid of the stigma that once you become a parent or married or over 30, you're basically not supposed to live your life for you anymore, which is fine," she told E! News. "But at the end of the day, my kids are well taken care of at home."
As for Snooki, in an October 2012 interview with TODAY, shortly after giving birth to her first child, she explained how becoming a parent threw a wrench in her former lifestyle. "It's crazy because, you know me, I just always want to have a good time — where's the next party, what am I gonna do tonight ..." she said, according to The Hollywood Reporter. "And now, it's just like, I love my baby, what can we do with him? It's just totally different."
It's totally normal for moms to experience feelings of guilt when working and away from their children, no matter what their job is, and it's awesome that Snooki and JWoww are fighting the stigma.
Check out Romper's new video series, Bearing The Motherload, where disagreeing parents from different sides of an issue sit down with a mediator and talk about how to support (and not judge) each other's parenting perspectives. New episodes air Mondays on Facebook.