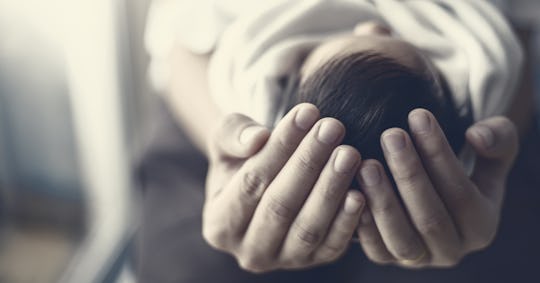 Pathathai Chungyam/Fotolia
13 Moms Share The Most Ridiculous Reasons They've Felt "Mom Guilt"
Mom guilt. We've all felt it, know it, and resent it. It's the burden all mamas bear that we just can't fully shake. Maybe it's the years of shaming mothers for every little choice or mistake they made. Maybe it's a remnant of days past when mothers were always expected to be perfect caretakers and homemakers (oh wait, some people still that way). Maybe it's just synonymous with parenthood. Either way, every mom can tell you all about the ridiculous reasons they've felt mom guilt. Hell, I know I could write a novel on the subject.
I have had some pretty serious reasons to feel mom guilt, to be honest. My son was in the NICU for the first few months of his life, and I'm still trying to shake the guilt associated with that difficult time in our lives. My body couldn't produce enough milk for me to exclusively breastfeed him, so I spent a significant amount of time feeling guilty for not feeding him "according to plan." In fact, when I look back at my brief time as a mom it's easy to see that I've spent so much time feeling an overwhelming amount of guilt over things that were simply out of my control. I've felt guilty for not taking my kid to the park enough, or for taking him to the same park over and over again. I've felt guilty for letting my kid watch cartoons and other shows, sometimes because I simply needed a break or a little silence. I've felt guilty for not letting my kid sleep in my bed, for promising him we'd take a trip to the museum only to find out it was closed, and for buying him a different brand of chicken nugget (that he wasn't as wild about) because the store ran out of his usual favorite.
I spent so much time, energy, and emotional labor feeling, shouldering, and finding my way through an inordinate amount of guilt, even though I'm raising a perfectly happy, healthy, well-fed kid with more toys and books than he knows what to do with. Rationally, I know it's all ridiculous, but that doesn't make it any easier to live some unrealistic guilt-free mom life. At the very least, however, I know I'm not alone. So with that in mind, here's what other moms had to say about their reasons for feeling guilty: