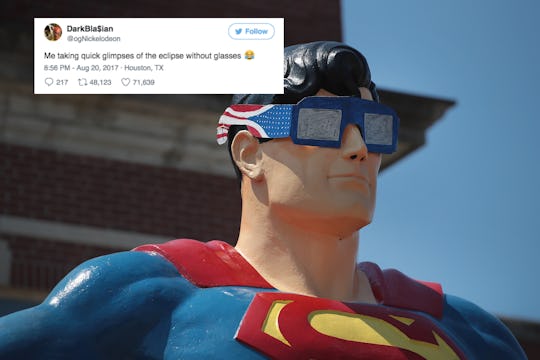 Scott Olson/Getty Images News/Getty Images
Solar Eclipse Memes That Prove Twitter Is So Ready
Monday's approaching solar eclipse has pretty much everyone totally intrigued — although not exactly for the same reason. For some, having the opportunity to witness an astronomical phenomenon in the United States for the first time in nearly 40 years feels like a really big deal. For others, the concept of the moon blocking out the sun in the middle of the day just seems kind of eery. And judging by the reaction on social media, it also seems like some people are just really looking forward to wearing their solar glasses. Either way, the eclipse is majorly trending, and the solar eclipse memes prove that Twitter never misses an opportunity to crack a joke.
In general, total solar eclipses are pretty rare, but this one is particularly special: not only has a total solar eclipse not been visible from the contiguous United States since 1979, according to CNN, it has also been nearly a century since a solar eclipse's path of totality has passed from coast to coast (today's eclipse will pass from Oregon through to South Carolina). Even more impressive? According to TIME, the last time a total solar eclipse had that specific trajectory was in — wait for it — 1776. You know, no big deal.
Unfortunately, the eclipse will only be completely visible in certain cities, and even then, the fact that it's taking place on a Monday means that most people will be stuck at work or school unless they specifically took time off. But from the sounds of it, even people who have no intention of going out of their way to get a good first-hand view of the eclipse still can't help but offer up their commentary.
Rare celestial event or not, what seems to be capturing people's attention more than anything is the fact that staring directly at the eclipse can cause some serious eye damage. It's why experts have been emphasizing that anyone actually intending to watch the eclipse needs to have protective eyewear, but if tweets are anything to go by, ophthalmologists might want to brace themselves:
Then, there are the folks who can't help but make a political joke:
Others were pointing out that, in some cities, things could end up becoming rather anticlimatic:
And honestly, the glasses definitely seem like they are the highlight for a lot of people:
Unfortunately, not everyone can join the fun:
Although some people were already over all the hype:
And then, well, there was this gem:
Even if you aren't usually someone who finds astronomy fascinating, an event like a total solar eclipse probably still seems pretty cool. But if there's one thing we can probably learn from Twitter today, it's that when the next solar eclipse arrives over the United States in 2024? Well, you're going to want to make sure you've purchased eye protection well in advance.