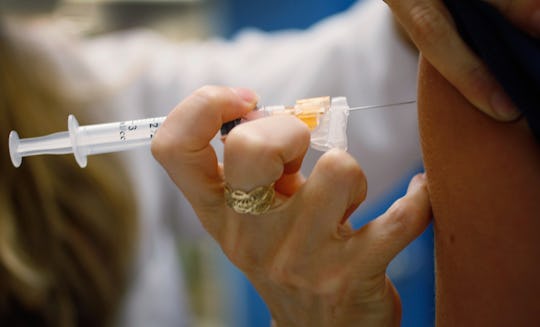 Joe Raedle/Getty Images News/Getty Images
Some Countries Are Funding The HPV Vaccine For Boys, & Here's Why That's Important
We all remember the commercials about HPV, don't we? Teenage girls standing in high school hallways, reminding us solemnly (and correctly) that they needed to be vaccinated against HPV (also known as human papillomavirus). Well, it turns out there should have maybe been a teenage boy or two in those commercials as well. Some countries are funding the HPV vaccine for boys, and it's a step in the right direction.
HPV is a virus that has been linked to several forms of cancer if left untreated: cervical, anal, penile, and mouth and throat cancers (called oropharyngeal cancer) in particular. While many countries are already funding the HPV vaccine for girls, a few have started to include boys. In Canada, many provinces have added the HPV vaccine for boys in grade seven to be administered at school. According to the Center for Disease Control, around 9,000 males are affected by HPV-related cancers every year, and those cancers are on the rise. The CDC reports:
Cases of anal cancer and cancers of the mouth/throat are on the rise. In fact, if current trends continue, the annual number of cancers of the mouth/throat attributed to HPV is expected to surpass the annual number of cervical cancers by 2020.
Since the HPV vaccine was first administered a decade ago, cases of cervical cancer have been chopped in half, according to the BBC. One professor, Ian Frazer of the Translational Research Institute, told the BBC that cancers caused by HPV could be completely eradicated within the next 40 years at this rate.
It helps not only control cervical cancer but also the oropharyngeal cancer - the cancers inside the mouth that are caused by these viruses. If we vaccinate enough people we will eliminate these viruses because they only infect humans. And in Australia there's already been a 90% reduction in infections in the 10 years the programme has been running.
While this is wonderful news for the young women who have been vaccinated, what about the boys?
Boys are clearly in need of the vaccine as well, as oropharyngeal cancer is on the rise in the male population. Vaccinating boys around the age of 11 or 12-years-old is recommended by the CDC for two reasons:
HPV vaccine must be given before exposure to virus for it to be effective in preventing cancers and other diseases caused by HPV.
HPV vaccine produces a high immune response at this age.
According to Frazer, HPV is a common virus that most people can contract through skin-on-skin contact, and is often sexually transmitted. In an interview with the BBC, he said:
The papilloma viruses that cause cancer are very common indeed. Most people get rid of the virus themselves without knowing they've contracted it, but 1% of the population that get it get persistent infection that lasts over five years. If they do that they've got a very good chance they'll get a cancer.
The HPV vaccine is considered a safe way of protecting both boys and girls from potentially deadly cancers by the scientific community. The CDC reports:
HPV vaccine has been studied very carefully and shown to be safe. Nearly 80 million doses of HPV vaccine have been distributed in the U.S. since 2006, and no serious safety concerns have been linked to HPV vaccination. Common, mild side effects reported include pain in the arm where the shot was given, fever, dizziness, and nausea.
The vaccine has proven effective for girls; now it's time to start protecting the boys from cancer as well. And it's important to remind young boys that they are just as responsible for their reproductive health as young girls.