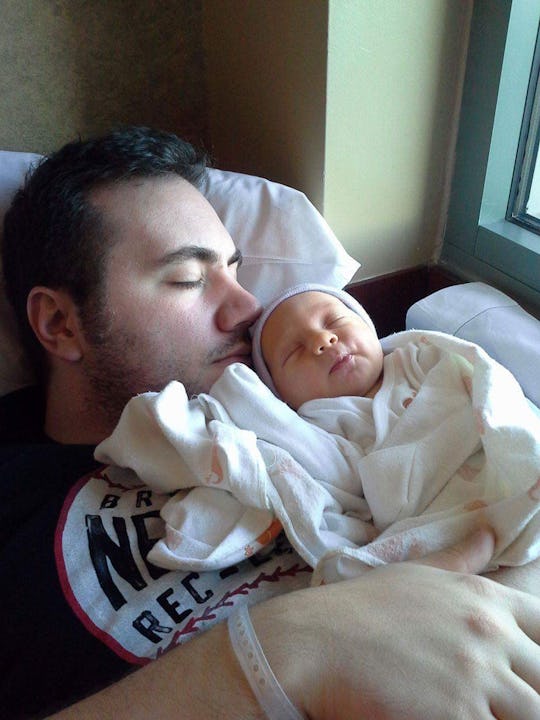 Photo courtesy of Alessandro
Dads Don't Always Bond With Baby Until Months Later, & It Affects The Entire Fam
"I always knew that my son would be closer to my wife for many [reasons]. While I was and am OK with that, I wanted to be more a part of his life than merely a presence," Alessandro,* a new father in Phoenix, Arizona, tells Romper. Alessandro is not alone. When it comes to parental bonding, fathers have a more difficult time establishing that tight-knit relationship with their baby than mothers. The base reason for this is simple: the nine-month pregnancy period allows mothers to bond emotionally with the fetus before it is even born, whereas fathers often have to wait until that "love at first sight" moment post-birth to begin the bonding process.
But the struggles of father-baby bonding extend much further than that. After a child is born, mothers often take center stage in the bonding process. And while it's important to note that mothers also experience many bonding difficulties, 53 percent of Americans reported that they view mothers as being better equipped than fathers to care for children, according to Pew, which is, no doubt, a mindset that creates a divide in the parental bonding process.
Jerrold Shapiro, professor of counseling psychology at Santa Clara University in Santa Clara, California, told ABC News that, "for the first period of life, and perhaps longer, basically the father is an outsider. The primary bond is between the mother and the infant; the father is there to protect that bond."
So, how concerned should fathers be when it comes to bonding?
Research shows that many benefits are derived from the father-child bond, including decreased stresses for the father later on in life and a positive impact on the mental health of the child, according to multiple studies reported on by The National. Fathers are well aware of the bonding divide, with a reported 48 percent admitting to not spending enough time with their children, according to Pew Research. There are many ways for fathers to work on this bond, but should they be overly stressed about it or is this relationship something that develops more gradually over time?
Romper spoke with three fathers about the struggles they've faced when it comes to bonding with their children and what they've done to confront that.
The more [my son] became aware of his surroundings, the more I began to feel a disconnect between us as he clung closely to his mother.
For Alessandro, the father of a 16-month-old, creating an attachment was difficult throughout the newborn period. "I struggled bonding with my son during the first six months after his birth," he tells Romper, though he says he loved having his son sleep on his chest. "However, the more [my son] became aware of his surroundings, the more I began to feel a disconnect between us as he clung closely to his mother," he says.
Like many fathers, Alessandro found that his being back at work, and his wife's exclusive breastfeeding, meant that the baby's needs were mostly taken care of. "Unfortunately, there was a small window during each day where I was present where he didn't need to be fed," he recalls.
Connor, whose daughter is now 6 months old, experienced a similar dynamic in his family. "When my daughter was born, I think my wife slipped into the role of 'nurturer' more quickly, whereas I was more concerned about making sure my baby and wife were happy, safe, and healthy," he tells Romper. "We didn't have any health issues, but I think one of the biggest challenges of having your first child (aside from the lack of sleep) is the disruption it causes to your lifestyle. It makes you aware of how selfish you were and how much time you spent doing things for yourself."
His expectation, going into parenthood, was that he would have a different bond to his wife with their child — especially once he found out he was having a girl.
"When I found out I was going to have a daughter, there was this attitude of 'OK, I won't be able to show my son how to be a kind and respectful man, but I now get to show my daughter what a kind and respectful man looks like,' and I think that special bond and relationship is important," he says. "You get to set an example of that relationship for her and that's exciting."
The close bond his partner has had with their child through the breastfeeding relationship loomed large in the short term, but, he says, "I think it's important that our daughter bonded with us both, and not to favor one parent over the other. She'll get different things from us both, but I wanted her to feel comfortable and safe with us both, and know that we each were going to protect and provide for her." And he says he gave the bond time to develop. "I think our bonding came naturally and the result of caring for her and slowly seeing her personality, learning her, and understanding what she needs."
Which brings us to the bigger picture. The bond between dads and their kids change over time, and are something they will work at as their kids grow.
To have a [more personal] relationship was difficult because when she was growing up, she was always convinced that she had much more in common with mom than dad.
A decade out of the newborn period, Dennis looks back on the phase fondly. "Bonding when Angela was a newborn was easy," he tells Romper of his 13-year-old daughter. "I could always get her attention because when she was that small, they depend on whoever was holding them because [they aren't] independent."
However, as his daughter grew older and more aware of her surroundings, he noticed it was increasingly difficult to bond. He attributes this struggle largely to the gender gap between them.
"To have a [more personal] relationship was difficult because when she was growing up, she was always convinced that she had much more in common with mom than dad. That made their relationship more personal than ours," he says.
The first few years of Angela's life were troublesome. The two had a difficult time bonding and creating a tight-knit relationship. It was something Dennis worried about but at the same time, believed would fix itself naturally as the years progressed. Now, 13 years since his daughter's birth, the two have a much better relationship.
He tells me, "I may not like the fact that mom is the primary focus of my daughter because she is there more, but I have to accept it. I do not think it's personal. I have to be the provider and mom is the mom. I think when my children grow up to be parents themselves they will understand why mom and dad were not the same parents."
The long view is hard to picture when your baby is small and new; when you are still getting to know them. Alessandro's son was a breech baby born by emergency c-section who struggled with acid reflux and colic.
"Both of those issues caused me to be very concerned with his welfare. My heart was broken during his bought of acid reflux where I could do nothing but hold and rock him for hours," Alessandro says. "Because of the amount of love and concern I had for him, I wanted even more so to develop that bond with him where he would know how I cared and would be there for him."
And for a caring dad who wants a bond to develop, time should help. "Ultimately, I both pushed myself and waited for time to naturally change our dynamic," says Alessandro. "I pushed myself to hold him and play with him even if it were for minutes at a time. Then slowly, as he transitioned into sleeping in his crib and using a bottle, I would take advantage to take care of him more and more."
The advice from dads who have been there is not to feel that because your child's mother carried them for nine months, they will always have the ultimate, primary bond. Some fathers struggle more than others, but with time and effort, all parents can develop that loving bond with their children that they crave.
*last names have been omitted
Check out Romper's new video series, Bearing The Motherload, where disagreeing parents from different sides of an issue sit down with a mediator and talk about how to support (and not judge) each other's parenting perspectives. New episodes air Mondays on Facebook.