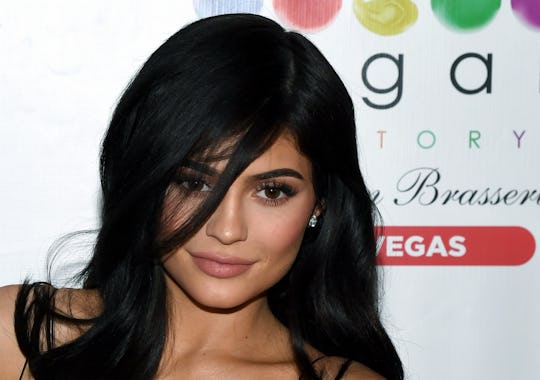 Ethan Miller/Getty Images Entertainment/Getty Images
Some Fans Think Stormi's Dad Is Kylie Jenner's Former Bodyguard, & It's Pretty Offensive
It's a safe bet Kylie Jenner is used to wild rumors about herself and her family. Take Jenner's pregnancy, for instance. For months, people theorized that Jenner was the surrogate for Kim Kardashian's third child. Of course, that suspicion turned out to be untrue — like many other outlandish claims about the family. But just when you thought the speculation couldn't get any more ridiculous, the internet came up with a theory that Stormi's dad is actually Kylie Jenner's former bodyguard, Tim Chung. Chung and Jenner did not immediately respond to Romper's request for comment. Although it's a tad entertaining to consider the lengths fans have gone to in order to concoct this absurd theory, the claim is more offensive than it is funny. In fact, it's actually pretty upsetting.
For many, there has never been an inkling of doubt that Travis Scott is Stormi's father. Scott was by Jenner's side throughout her entire pregnancy, and she has made it quite clear that he's the father of her child. Tyga, Jenner's ex-boyfriend, even went so far as to debunk rumors that he is Stormi's dad. "I've never said anything about someone else's child or family insinuating my involvement; and will never do so," Tyga said in March 2018 about the tabloid stories, according to Twitter. "Please, Stop spreading false stories and attacking people's families. I have nothing to do with any of that. People should be able to live in peace."
Tyga, who parted ways with Jenner around April 2017, was right to say that people should be able to "live in peace." Unfortunately, many fans choose to ignore this concept to the detriment of others. Case in point: people are promoting the theory that Chung is Stormi's dad. As for the evidence, look no further than this photo of Chung escorting Jenner around town some time in 2016.
Although it's not clear if Chung works as Jenner's bodyguard anymore (they haven't been pictured together in a while), it's obvious people are buying into this conspiracy.
"You guys!! Someone said that Kylie's baby looks more like her bodyguard than Travis," a person wrote. "The resemblance is freakishly accurate... I looked him up of course, his name is Tim Chung, And he's absolutely dreamy! All I know is, I don't know anything!"
"If kylies baby daddy really is tim chung and travis scott isn't then kris jenner has- once again-- worked harder than the devil," another person joked.
One person took things a step further by commenting that Stormi "looks Asian," writing: "Stormi looks asian tbh I'M HERE FOR IT TIM CHUNG IS GODD*MN HOT kylie pls."
You don't have to be a fan of Jenner to find these tweets offensive. Not only is it rude to question a child's paternity, but it's also upsetting to think that Stormi might see these tweets one day. One can only imagine how these messages might hurt or even confuse Stormi when she gets older.
And it's just not OK for people to blast Chung's name and Instagram handle all over Twitter to further investigate the theory. Although Chung did work for a celebrity, he's probably not used to this level of sleuthing and personal attention.
Lastly, this rumor is hurtful to the life Jenner and Scott are building with their daughter. It's a bit disappointing that while Jenner and Scott enjoy their first family vacation together, people are concocting the most random theories about Stormi's paternity on the internet. Sheesh.
As for Jenner's reaction to this nonsense, there's a good chance she won't speak out on the drama. For now, Jenner is too busy enjoying her new family and gorgeous baby.
Check out Romper's new video series, Bearing The Motherload, where disagreeing parents from different sides of an issue sit down with a mediator and talk about how to support (and not judge) each other's parenting perspectives. New episodes air Mondays on Facebook.