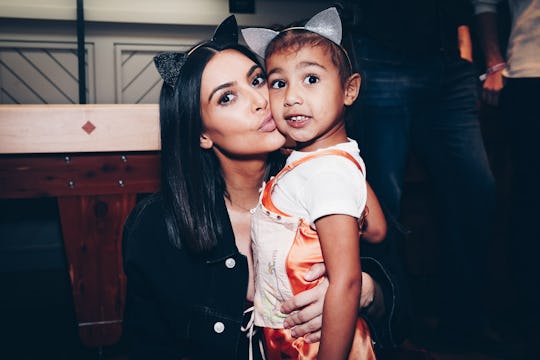 Handout/Getty Images Entertainment/Getty Images
There's A Good Reason Why Kim & North Ate Separately At A Restaurant, So Everyone Calm Down
I shudder to think what I would look like as a parent if I was as famous as a Kardashian. The amount of mistakes I've made privately might not make me a bad mom to my kids, but they would most certainly make me a bad mom in the court of public opinion. So to tell you the truth, I'm frequently impressed that the various Kardashian moms manage to hold things together as well as they do with everyone watching them and hoping they mess up. Most recently, people are upset that Kim Kardashian and North reportedly ate separately at a restaurant, and of course too many people didn't bother to get the whole story before sharing their two cents on the matter. Or to just let the woman parent her child free of judgment...
The KKW mogul was recently seen at a high-end Italian restaurant in Miami called Carpaccio with friends Laura Pippin and Jonathan Cheban, as well as 5-year-old daughter North and her child's nanny, according to Page Six. An onlooker reportedly saw Kardashian sitting with her adult friends at one table, while her daughter and her nanny sat at a different table, according to People. North was reportedly seen talking to her mom, but mostly sat at the table and looked at her iPad.
Of course, the internet was furious in that way it can only be when a Kardashian might have done something they don't like. "Is this just part of Kim Kardashian's parenting methods?" one person tweeted. Another person wrote on Twitter, "Kim Kardashian goes to restaurant with 5-year-old daughter North, sits at a separate table...........yeah okay mom of the year!"
Yet another person wrote on Facebook, "Are you ashamed of her??? Your her Mo Sit with your daughter!!!!!!!!!"
So here's the thing; Kardashian reportedly had a perfectly reasonable explanation for why she was eating at a separate table. Now before I share what this explanation might be, may I just reiterate that she does not owe anyone an explanation about sitting at a different table. I feel like this cannot be overstated here.
That being said, it seems North was reportedly sitting at a different table because her mom was filming an episode of Keeping Up With The Kardashians and North didn't want to be on camera. A source told People, "Kim was filming and North expressed that she didn't want to be on camera, so she sat at a table next to Kim."
This sounds like a pretty sound decision for the mom of three; she understands that she has to film for her show but she doesn't expect her daughter to be a part of it if she doesn't want to be. Which sounds to me like she's willing to pay the price of fame, but North certainly shouldn't have to.
In fact, Kardashian has opened up in the past about protecting her loved ones from her level of fame and the choices she makes for her reality show. During the 10th anniversary special of KUWTK, Kardashian (who is married to rapper Kanye West and is also mom to 2-year-old son Saint and 6-month-old daughter Chicago) explained, according to People:
You can fall in love with someone, and it's not their job to be on our show. Kanye respects what I do and sometimes he's on, if he happens to be there, or will let us film if we're at a concert. At first we were like, "Our kids will never be on, my daughter is not going to be on." But she's always around me and she's so cute, so I just want people to see [that] a little bit. It's never a story revolving [around] them or about them or anything too personal. We know that we signed up for this, but our kids did not.
Now in a perfect world, Kardashian critics would regret getting all in a dither about what seems to be a misunderstanding. But this will obviously not happen. People will continue to thrive off of attacking the Kardashians, and they will continue to just live their lives in the public eye.
All I can say is, better them than me.