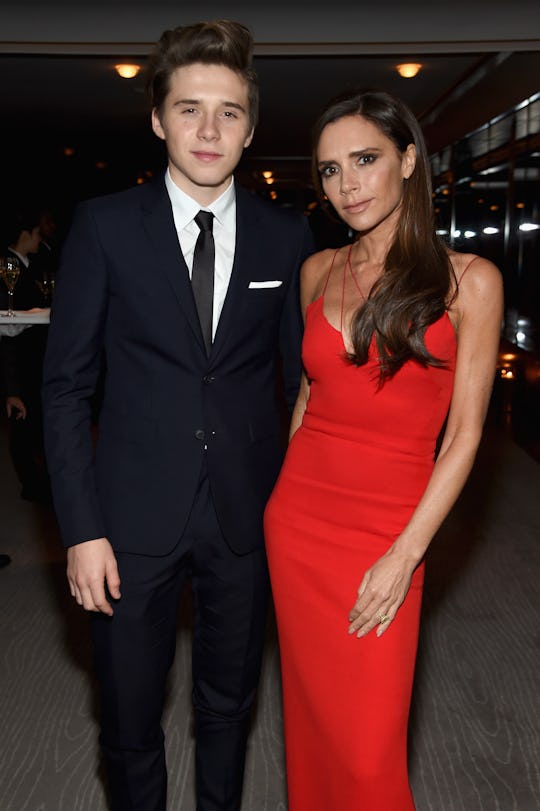 Jamie McCarthy/Getty Images Entertainment/Getty Images
Ugh, Some People Apparently Think This Photo Of Victoria Beckham & Her Son Is "Inappropriate"
Moms are allowed to have "dates" with their sons, just like all of those adorable "daddy-daughter dates" that flood my Instagram feed on any given day. I've never understood why society has a problem with sons having a close relationship with their moms beyond the first six years of their lives. But apparently, they do, because some people seem to think Victoria Beckham's new photo with her son is somehow "inappropriate" and it's seriously a problem.
The Spice Girl and fashion designer shared a picture on Instagram on Wednesday with her oldest son, 19-year-old son Brooklyn Beckham. The two were reportedly heading out to the Argento Ball For The Elton John AIDS Foundation in Windsor in England, according to ELLE, and Beckham seemed to be pretty excited about going out for a "date" night with her son, maybe since she's the mother of four and looking forward to some one-on-one time. As a mom of four boys myself, I can tell you it's always a pretty special day when I get to hang out with just one of them, so I get where Victoria Beckham is coming from.
When I saw the picture of Victoria Beckham helping her son with his tie, here's what I thought; She looks great, he's so tall, nice picture. That's it.
Unfortunately, not everyone saw the picture of Victoria and Brooklyn Beckham — which she captioned "The perfect date" — the same way. In fact, there were way too many people who got real dark, real quick. Some critics took to Beckham's Instagram post to call her out for being "inappropriate" for having a date night with her son, and to insinuate that the pose was too sexy.
"Lol one word: Oedipus," one person commented.
Another wrote. "While I think it is lovely that she is bringing her son to the ball, the photo is a tad inappropriate looking - maybe it's the poses but it looks slightly inappropriate. Am I wrong?" For the record; yes, you're wrong.
One person even thought it was odd to spend an evening with her son instead of her husband, soccer legend David Beckham. "Shouldn't David be your "date", not your son," one critic wrote.
The couple were actually out for a night on the town the previous evening at an event at Sotheby's Old Masters Paintings Preview in London, according to Vogue.
Happily, there were also some people who were quick to defend the utterly harmless picture of a mother and her son. 'I have dates with my sons, nothing strange about that," one person chimed in.
Another wrote, "Since when did it become inappropriate for a mother to fix their sons tie, or to go to a ball together. This world is producing some sad sad people. Jealousy is a hideous thing."
While people were giving Victoria Beckham a tough time for having a date night with her grown son, her husband does not seem to suffer from the same truly strange presumptions. He frequently shares photos of time spent with the couple's 7-year-old daughter Harper, not to mention lunch dates with his own mom.
In fact, when Beckham shared a snap of himself with his mom, Sandra Beckham, out for lunch together, the picture was liked more than 1.1 million times. And the comments? Pretty much all effusive praise for a man who loves his mother.
So here's my question; when does a date night between a mom and a son go from inappropriate to sweet and adorable? Is there a specific age? Who is making these rules? Is there some Great Decider I'm not aware of who decrees when sons should be close to their moms and when they shouldn't? This is such a ridiculous double standard. And it really needs to end.