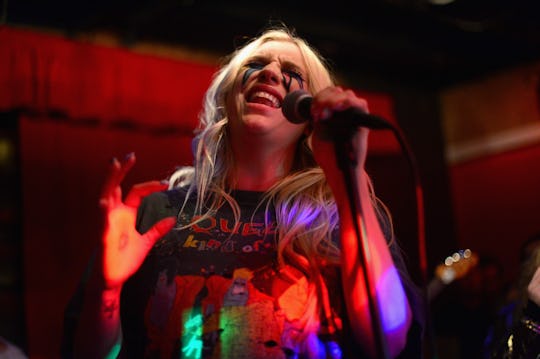 Katie Stratton/Getty Images Entertainment/Getty Images
Sony Responds To Kesha's Feud With Dr. Luke & Kesha Supporters Aren't Happy
Finally, Sony responded to Kesha's lawsuit with producer Lukasz Gottwald (commonly known as Dr. Luke) on Friday, and the verdict isn't good. Up until now, Sony had remained mum on the lawsuit between Kesha and Dr. Luke, who the pop star claimed "sexually, physically, verbally, and emotionally" abused her. Dr. Luke has denied all allegations and hasn't been charged with any crime. Late Thursday, however, Sony ended its silence. Scott A. Edelman, an attorney representing the music giant, told The New York Times:
Sony has made it possible for Kesha to record without any connection, involvement, or interaction with Luke whatsoever, but Sony is not in a position to terminate the contractual relationship between Luke and Kesha. Sony is doing everything it can to support the artist in these circumstances, but is legally unable to terminate the contract to which it is not a party.
The statement is, well, true. Kesha is signed to Kemosabe Records, which is Dr. Luke's label and a subsidiary of Sony, and the agreement between Kesha and Dr. Luke was carried out through Dr. Luke's production company, Kasz Money Inc. Fans have since decided to pressure Sony to drop Dr. Luke, and "Drop Luke to Free Kesha" has gone viral on Twitter. Protestors' pictures show supporters rallying outside of Sony's doors holding signs that say, "Freedom for Kesha" and "Sony supports rape," along with drawings of Dr. Luke as half-man, half-demon.
Dr. Luke, for his part, has denied the allegations and took to Twitter last week to speak out, writing:
I didn't rape Kesha and I have never had sex with her. Kesha and I were friends for many years and she was like my little sister.
Dr. Luke went on to write, "It's sad that she would turn a contract negotiation into something so horrendous and untrue," as well as, "Imagine if you or somebody you loved was publicly accused of a rape you knew they didn't do. Imagine that."
The problem, according to Billboard, is that pressuring Sony is unlikely to achieve anything. Sony doesn't have a contractual relationship with Kesha, and if the company were to pressure Dr. Luke to release Kesha from her contract, Sony could be sued for tortious interference. (Judging by the fact that Dr. Luke turned around and sued Kesha for defamation, a lawsuit against Sony wouldn't be surprising if they chose to pressure Dr. Luke.) Even if executives simply let the contract between Sony and Dr. Luke run out — the union is due to either be re-newed, renegotiated, or severed later this year — that might not help Kesha, since Sony isn't the one contractually tied to her.
At the same time, the joint venture between Sony and Dr. Luke — Kemosabe Records — could possibly be terminated or bought out by Sony, according to Billboard. As an example, Billboard said NBC Universal ended its joint venture, Miss Universe, with Donald Trump after he made inappropriate remarks about Mexicans. Could pressuring Sony lead to these outcomes? Maybe, although the contractual deal between Sony and Dr. Luke when it comes to Kemosabe Records isn't public information, so it's hard to say for sure. Even if Sony were to successfully remove Dr. Luke from Kemosabe Records, Kesha could still be tied to Dr. Luke through his production company that she signed with, Kasz Money Inc.
Kesha also spoke out about the case and thanked fans and colleagues in the industry for their support, writing on Facebook:
I'm so, so beyond humbled and thankful for all of the support I've received from everyone. Words cannot really express the emotions I've gone through reading and seeing how amazing everyone has been to me. ... All I ever wanted was to be able to make music without being afraid, scared, or abused. This case has never been about a renegotiation of my record contract – it was never about getting a bigger, or a better deal. This is about being free from my abuser. I would be willing to work with Sony if they do the right thing and break all ties that bind me to my abuser.
Although Kesha's injunction was denied, the case is still ongoing, and Kesha's supporters are still going strong both online and on the ground.