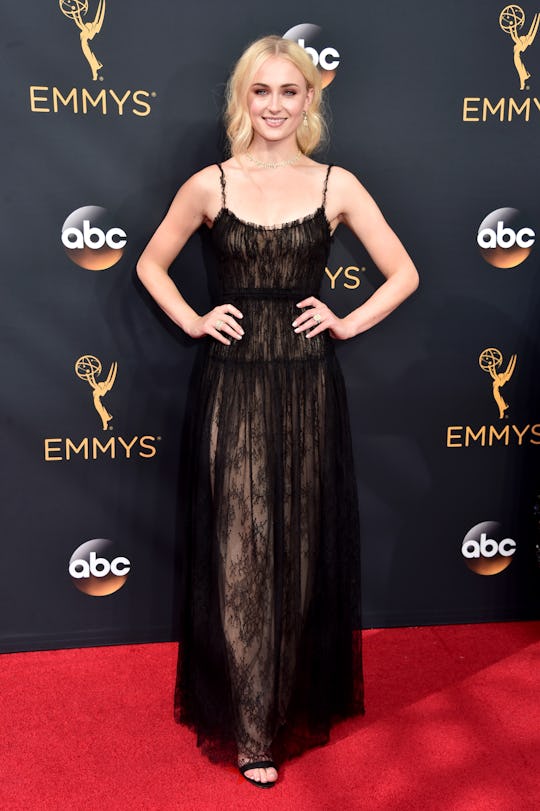 Alberto E. Rodriguez/Getty
Sophie Turner Says 'Game Of Thrones' Fans Will Be 'Really Satisfied' By Season 7
Even though Game of Thrones star Sophie Turner was viciously snubbed at the 2016 Emmys this year (how much must Sansa endure?), she did give fans of the show a hopeful preview on the red carpet. In an interview with Giuliana Rancic, Sophie Turner said Game of Thrones fans will be "really satisfied" by Season 7.
Turner graced the red carpet in a gothy Valentino gown (of which Dark Mutter Cersei Lannister would be proud), Forevermark diamonds, and Louboutin shoes. "I've got to name all of them or they won't lend to me again," the 20-year-old actress quipped. And when Rancic asked what her gut reaction was reading the Season 7 Game of Thrones scripts for the first time, Turner gave a response better than fans could have hoped for.
"I was actually speechless," she revealed. "Like, this season is unbelievable, and I think fans are going to be really satisfied. It's crazy."
Her character Sansa Stark had been through the ringer on Season 5, and Season 6 was finally her redemption tour. (Yet another reason it was such a gut-punch not to see Sophie Turner nominated this year.) She reunited with her half-brother Jon Snow. She got to murder her abusive husband Ramsay Bolton, who lost his hold on Winterfell. And she finally got to sit at the head of the table in her home dining hall and watch Jon Snow be crowned King of the North.
Game of Thrones stays notoriously tight-lipped on production of its upcoming seasons, even when literally everyone knows what's going to happen. (Hello: the Resurrection of Jon Snow.) So even though spoilers are hard to come by, it's a good sign Turner is so pumped about Season 7. Of course, the lingering question on everyone's mind post-Ramsay slaughter is: did Sansa get pregnant before he died? He'd been brutally raping her in an effort to produce a Bolton-Stark heir, so the Northerners would finally acknowledge him as rightful King of the North. Although the question was left ambiguous at the end of the season, it would seriously shake things up for Sansa if it were true.
Sophie Turner also gave a shoutout to her real life bestie-ship with co-star Maisie Williams on the red carpet, revealing that they got matching tattoos in honor of their time on Game of Thrones. They initially talked about getting matching dire wolves if their characters survived all the way through the series. But since they don't know their fates just yet, they opted instead for small tattoos of the dates they booked Game of Thrones together, "before they kill us off!" Hopefully, her highly anticipated Season 7 scripts lead Turner to splash her way into the Emmy nomination pool next year.