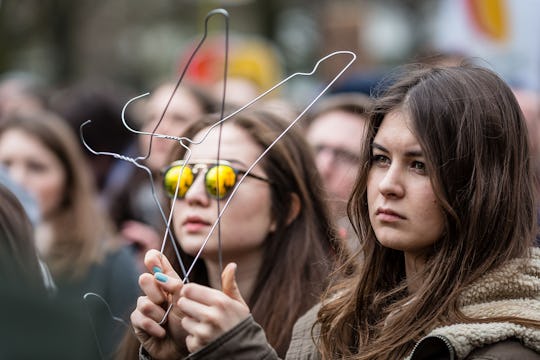 WOJTEK RADWANSKI/AFP/Getty Images
South Carolina Bans Abortions After 19 Weeks, Perpetuating Dangerous Myths That Hurt Women
Following in the footsteps of 16 other states before it, South Carolina banned abortions after 19 weeks in a legislative bill Tuesday, according to the Washington Post. If the bill is passed into law by Republican Gov. Nikki Haley (which it will be, in all likelihood), South Carolina will then become the 13th state to adopt such a law, meaning that it would become illegal to obtain or perform an abortion after 19 weeks past conception (which usually works out to be about 22 weeks gestation, based on the woman's menstrual cycle). The only legal exception would occur when the mother's life is in jeopardy, or when a doctor has determined the fetus would not survive outside the womb. That means that abortions would not be allowed after 19 weeks in cases where severe abnormalities have been found, but which would not cause death, and there are also no exceptions for cases of rape or incest. Rep. Wendy Nanney, who sponsored the bill, told Reuters she hopes that it will help "get rid of abortion altogether" in South Carolina:
I believe that life begins at conception and every step we can take to get back to that point is important. In my view and many others it's inhumane to subject that baby to pain at 20 weeks.
Opponents of the bill however, argue that there are many flaws in Nanney's argument, chiefly that the idea that a fetus can feel pain at 20 weeks is not actually supported by medical evidence. And while the focus of the ban is on late-term abortion, women's health activists note that abortions after 20 weeks are actually incredibly uncommon, and occur most often in wanted pregnancies where something has gone significantly wrong.
In a statement, Alyssa Miller, a spokesperson for Planned Parenthood in South Carolina, said that the ban will take away an important medical option for women when it is likely to be needed the most, according to Reuters:
This is a dangerous bill for South Carolina women...made even more extreme by removing exceptions for victims of rape and incest. The reality is that abortion later in pregnancy is extremely rare and often takes place in complex and difficult situations where a woman and her doctor need every medical option available.
Democratic Rep. James Smith agreed, according to the Washington Post, and argued that the ban is unnecessary, as fewer than 30 abortions on average each year are performed after 20 weeks gestation in South Carolina as it is. Of the three abortion clinics running in South Carolina, none of them are allowed to perform abortions after 15 weeks gestation as it is, which would mean the ban would affect only hospitals. Smith said,
[Many late-term abortions] are wanted pregnancies, but they find out there is a terrible abnormality. Wouldn't it be interesting if we take dollar-for-dollar the money we're going to spend litigating unconstitutional bills and put it into something that makes a difference in South Carolina?
Under the bill, a doctor who performs an abortion after 19 weeks who does not meet the criteria for an exception could face up to three years in prison and a $10,000 fine.
Other states, like Utah, South Dakota, and Arizona have also ushered in similarly strict anti-abortion laws aimed at making it close to impossible for women to access legal and safe abortions from licensed medical professionals. In 2011, an Idaho woman was arrested for inducing her own abortion using pills she bought on the Internet thanks to her state's tough abortion laws — although her case eventually led to the law being overturned by 9th Circuit Court of Appeals as unconstitutional, according to CBS News. And in other states, related bills like Texas' H.B. 2, are clamping down on access to abortion by requiring abortion providers to have hospital admitting privileges and abortion clinics to meet the standards of Ambulatory Surgical Centers (despite the fact that abortion providers don't actually have any reason to need admitting privileges, and the fact that medical abortions are actually incredibly low risk — and about 14 times less deadly than giving birth).
While it's hard to argue against a law that's purportedly designed to protect innocent babies from pain and/or infanticide, upon closer inspection, it seems that South Carolina's newest anti-abortion bill doesn't actually do either of those things. What it does do is keep more women and their doctors from making informed medical decisions, putting the health of those women at risk. And that doesn't sound like something worth celebrating.