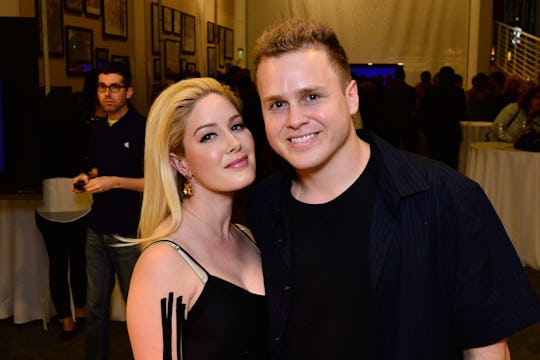 Jerod Harris/Getty Images Entertainment/Getty Images
This Is How Speidi Will Choose Their Baby's Name
Spencer Pratt and Heidi Montag are expecting their first baby, to fully round out the baby boom of The Hills' alumni (Lauren Conrad and Whitney Port both recently welcomed babies of their own). Fans of the show and of Pratt in general know he's a bit of a wild card when it comes to his opinions, and nothing has changed on that score. During a recent podcast interview, Pratt talked about choosing baby names with Montag, and his method makes total sense. If you happen to be Spencer Pratt, that is.
During an appearance on Allegedly With Theo Von and Michael Cole Weiss recently, the subject of Pratt's impending tiny human came up. It seems the couple have come up with what they consider to be the perfect name for their baby (the couple is reportedly expecting a son, according to People). Wondering how Pratt and Montag chose an appropriate moniker for their child, the name this child will carry for the rest of their life? They made sure the social media handle was available, because obviously: As Pratt explained in the recent interview:
We had to ditch a couple names [because those social handles were unavailable]
I'm not exactly sure why I was initially surprised by this; after all, Pratt has never made any secret of his love for all things social media.
Pratt went on to explain his idealized version of parenthood with his son, complete with immediate access to a cell phone and cultivating the need for constant attention (because that won't get old right quick). According to Us Weekly, he said:
This kid will have an iPhone at birth. I'm gonna teach this kid how to Snap when they're born, like, "Put your finger here." You walk around, everybody's making their own content all day long. We live in a new world where everyone's a fame wh**e, so I'm happy to let him be at an advanced level. I would just like my baby to be a professional content maker.
Just like every parent wishes, of course.
Pratt was quite clearly never going to go for being a traditional dad (whatever that may be). But that doesn't mean he has any intention of shirking his parenting duties. On the contrary; during the podcast interview he admitted he plans on taking fatherhood very seriously:
My dad was so chill that he did not prepare me for how hard you can f— up. You can't just do whatever you want like I did. Obviously I've had so much fun and everything, but depending on what you want to do with your life, certain moves professionally can sabotage your future.
And speaking of having fun... please tell me you've seen Pratt's cover of Taylor Swift's "Look What You Made Me Do" video. If not, here you go and oh my God, you are so welcome.
Whether or not Montag and Pratt's newborn baby will actually be social-media savvy straight out of the womb is anyone's guess. But I would be willing to bet on one thing; whatever happens, it won't be boring. Pratt and Montag will make sure of it.