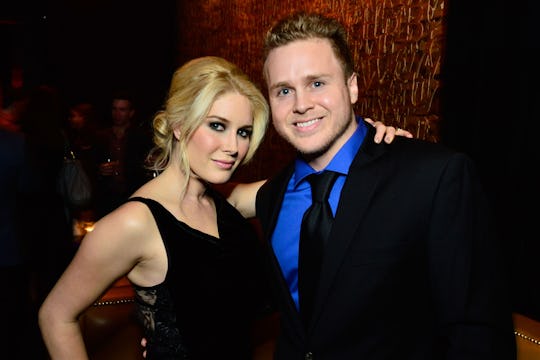 Jerod Harris/Getty Images Entertainment/Getty Images
Spencer Pratt Reveals The *One* Thing He Had To Do While Heidi Montag Was In Labor
In movies and even television shows, a woman going into labor is always an extremely dramatic event. Husbands, significant others, friends, and family all rush said woman to the hospital, often after an unrealistic depiction of the woman's water breaking. Obviously, that isn't usually how real life goes, although there are some similarities. Typically, a woman going into labor wants to get to the hospital ASAP, and everything else can just wait. But that wasn't the case with this celebrity couple. Yeah, Spencer Pratt needed to do this one chore while Heidi Montag was in labor, and it's pretty unbelievable.
Speaking to Us Weekly, Pratt detailed the day that Montag went into labor, specifically, the one thing he just couldn't forget about, despite the fact that his wife of 10 years was about to push a little human being out of her. And what was so important? Feeding his hummingbirds, of course! Yeah, you read that correctly. In the midst of chaos, and on one of the most important days of his life, Pratt felt the need to make sure that his hummingbirds were properly taken care of before escorting his wife to the hospital.
"There was no way our baby was going to come home to a starving hummingbird sanctuary," he told Us Weekly. "I was like, 'This is an emergency!'"
So, given that he had to replenish a total of 30 feeders, this took Pratt a bit of time to accomplish. But, as far as Montag was concerned, feeding the hummingbirds wasn't really a top priority for her. "I tried being patient, but it was getting ridiculous," she told the publication. "I was like, 'Honey, we have to go!'"
And fortunately, they made it to the hospital with plenty of time to spare. So much time, in fact, that Montag was able to get a makeover while having contractions. At the hospital, Montag's makeup artist, Stella, was summoned. "She was doing my makeup as I'm having contractions," Montag told Us Weekly.
And the mom-to-be wasn't the only one who got glammed up for the big day. Montag was surrounded by $27,000 worth of crystals, as Vogue reported, specifically "an amethyst geode to emphasize healing, a pink rose quartz to activate love and a golden citrine to promote prosperity and eliminate stress," Us Weekly described.
And what was Pratt doing during the first part of Montag's delivery? Well, after having taken care of the hummingbirds, Pratt needed some time to prepare for childbirth. "I will be honest, once she started moaning loudly, I was like, 'This is way gnarlier than anything I am mentally prepared for,'" he told Us Weekly.
Luckily, Pratt didn't need too much time and was able to be there for Montag when she needed him most. Recalling Pratt's actions in the delivery room, Montag told Us Weekly:
He was like an Olympic coach telling me, "You've been praying for Gunner all your life. Here he comes. Push him out!" He was the champion I needed.
Gunner's birth might have been one wild ride, but Pratt and Montag were definitely prepared for their son's arrival. The new parents had decided long ago on a unique name for their son, though Pratt admitted to E! News that "Gunner Stone" wasn't "as flashy" as he had wanted.
"We came to a common ground," he told E! News. "I definitely wanted Speidi. At least a middle name!" Stone seems like a good compromise.
Little Gunner might have gotten a tamer name than his dad had planned, but there's no doubt that he'll ever be bored with Pratt — and the hummingbirds — around.
Watch Romper's new video series, Romper's Doula Diaries:
Check out the entire Romper's Doula Diaries series and other videos on Facebook and the Bustle app across Apple TV, Roku, and Amazon Fire TV.