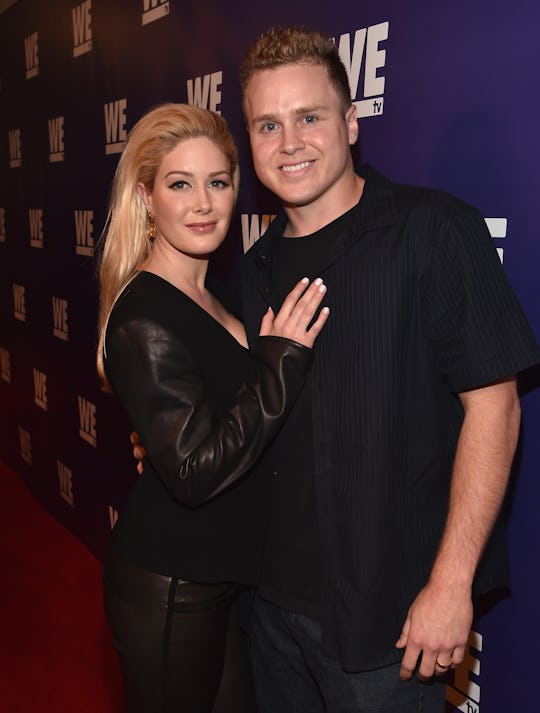 Alberto E. Rodriguez/Getty Images Entertainment/Getty Images
Spencer Pratt Quotes That May Hint At His Parenting Style
Do you remember when the only thing we knew about Ryan Reynolds was that he A) had crazy abs, B) he was Van Wilder and, C) he was married to Blake Lively? Remember those days? And then he became the world's most adorable Twitter dad/Real Life Deadpool and everyone just wanted to eat him up with a spoon? I can't help but wonder whether this same phenomenon will also apply to the latest celebrity couple to announce that they're going to have a baby. What do Spencer Pratt quotes say about the kind of dad he might be?
Well, the self-described "Famewhore" (this is a real quote, it was in Time) Pratt is expecting his first child with wife Heidi Montag. Initially, The Hills star Montag had a bit of a rough time getting Pratt to sign on for impending fatherhood; In July, she told Faithwire, "I had to pray to get my husband to even … agree to have a kid." He must have finally agreed to it though, because the couple are expecting their imminent arrival later this year.
That doesn't mean it'll all be smooth sailing from here on out: Back in February, according to Us, Pratt sparked baby controversy by tweeting, "Impossible picking baby names because every name reminds me of someone I don't like.
Clearly, Pratt is still relishing that whole "villain" thing he had going on The Hills, naughty and irreverent and a slave to fame. But how will that persona jive with fatherhood?
"Current mood is Britney"
This cryptic quote from Pratt's Twitter feed makes me wonder about the kind of dad he might be. Because I'm picturing his child having to learn a sort of celebrity shorthand to understand Pratt's directions. So the rest of us might not understand "current mood is Britney," but I can picture a small child solemnly nodding his or her head and dropping into a plank on the beach or something.
"No, you're making yourself feel guilty."
Pratt said this to his sister, Stephanie Pratt, in an episode of The Hills when she asked him why he wanted to make her feel so guilty. This should really come in handy when Pratt is parenting, because kids really love it when you play that whole conversational Why do you keep hitting yourself? game.
"There's no way my love for fame and her love for puppies will ever work out."
Pratt claimed in an interview with People in 2010, the year after they married, that he had chosen fame over Montag, indicating that the two were reportedly separating (that later turned out to be a clever ploy to get a TV show — and yes, Pratt himself said so):
I want every kind of press. She believes in bad press. There's no way my love for fame and her love for puppies will ever work out successfully. She just wants to hike and hang out and be calmer.
In a strange way, this gives me hope for his future as a father. Because he sees his own faults (deep, deep down), and because he appreciates the nurturing instinct of Montag, even if he's only saying it out loud for other purposes. So that's something, I suppose.
"There was no mood there. It was just a reminder to create one of these things [a baby] that you need diapers for. The only mood I was in was trying to do was quit the show."
Back in 2015, Montag and Pratt were guests on Season 2 of the reality show, Marriage Boot Camp, and were expected to sleep in a nursery. Pratt was not a fan. Because he was apparently not into bringing babies into the world. But here's the good news: Pratt reportedly came out of the reality show with a better view towards having babies.
"Heidi said, 'I'm pregnant.' I was like 'Whoa, that's way more exciting than banana bread."
This was Pratt's reaction when he was woken up by Montag standing beside his bed in Santa Barbara to share the exciting news, according to Us. While it might seem a tad dismissive, there's more:
The look on her face, I can't even describe it. She was literally glowing. I thought she was about to say she made muffins or banana bread.
Bottom line? Pratt is probably going to learn how to parent the same way the rest of us did — fake it 'til you make it.