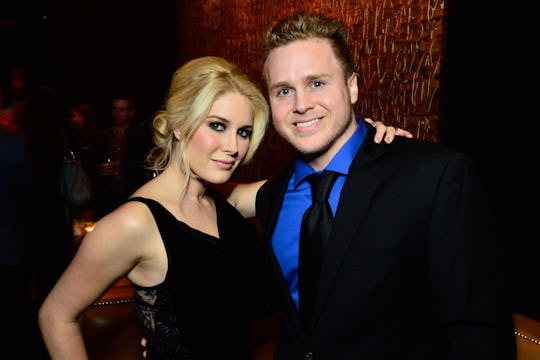 Jerod Harris/Getty Images Entertainment/Getty Images
Spencer Pratt Opens Up About The First Time His Son Peed On Him & It's Hilariously Relatable
Becoming a parent definitely comes with a learning curve. No matter how many books you read, or how much advice you get from well-meaning (but sometime slightly overbearing) friends and family, nothing really prepares you for what parenthood actually is, something a certain new dad can definitely attest to. Yes, The Hills alum Spencer Pratt shared his most embarrassing parenting moment (so far), but it's honestly so relatable.
Pratt became a father pretty recently, on Oct. 1, 2017, according to Us Weekly, and the parents were both extremely excited, with Pratt telling the publication that it was "officially the most lit day of my life." Reports also indicated that when Pratt's wife, Heidi Montag, gave birth she was "surrounded by $27,000 worth of crystals," according to ELLE. Clearly, the couple was prepared for the birth, but everything that came after was definitely shocking, according to Pratt's most recent interview with People. Because even though becoming a dad has made the 34-year-old "enjoy humans more," as he told the publication, it's also come with a lot of baby pee.
"I would say the first time my son peed all over me and it was just really hot," Pratt explained when asked about the most "embarrassing" part of fatherhood so far, according to his interview with People. "I was adjusting to being urinated on, so that was like, 'Oh, there's hot pee all over me,' and I kind of acted like a baby. I was like 'Heidi! Come get the baby! There's pee all over me! I ran and showered, and I've been peed on since and I've handled it way better."
Yup, even celebrity parents get peed on sometimes, and yes, it usually happens more than once. As Pratt went on to tell People, of his baby pee escapades, "I ran and showered. I've been peed on since and I handled it way better. You can't get frustrated."
Truly, for parents of baby boys, getting peed on is really just part of the package deal. Of course, it's totally possible to get peed on by a baby girl if you're holding her the wrong way, or something, but because of certain male anatomy, it's a lot easier for baby boys to have an accident on mom or dad while being changed. As Parents put it, "When cleaning your son, don't leave his penis exposed -- keep it covered with a diaper or you risk getting sprayed." But sometimes, you just have to learn the hard way.
But at the end of the day, Pratt, of course, doesn't hold any grudges against his son. "My son Gunner definitely takes after Heidi because he comes off genuinely sweet," he told People. "He just seems like the sweetest little baby. He's always smiling. I feel like I would be a grumpy baby."
Pratt is clearly taking in every moment possible with his little dude. And 6-month-old Gunner Stone definitely seems like he's got his parents wrapped around his little fingers. And Pratt's wife, Montag, also seems to be loving all these parenting moments and being a new mom to her son. "Gunner's given me a whole new strength that I didn't know," she told Paper Magazine earlier this month. "I feel like I am stronger than I've ever been emotionally. At the end of the day, I'm his mom, and that's my main priority."
The new parents are so obviously smitten with their little bundle of joy, pee accidents and all. Which really, are some of parenthood's most memorable moments, aren't they?
Check out Romper's new video series, Bearing The Motherload, where disagreeing parents from different sides of an issue sit down with a mediator and talk about how to support (and not judge) each other's parenting perspectives. New episodes air Mondays on Facebook.