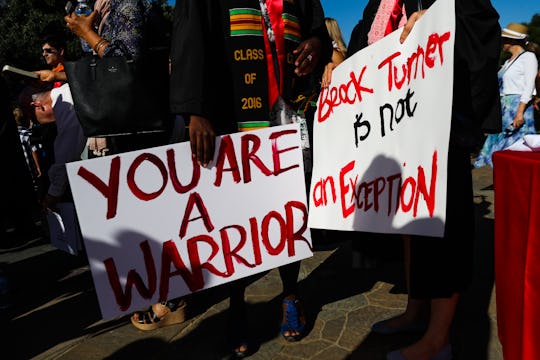 GABRIELLE LURIE/AFP/Getty Images
Stanford Rape Survivor Emily Doe's Glamour Women Of The Year Letter Is A Must-Read
When her sentencing statement went viral last June, a Stanford rape survivor spoke for women, not just victims of sexual assault, everywhere. Now, she's speaking out yet again and the Stanford rape survivor's Glamour letter is a must-read for everyone, male or female. Glamour's Women of the Year awards are given to "honor extraordinary and inspirational women from a variety of fields, including entertainment, business, sports, music, science, medicine, education, and politics," according to their description of the 27-year-old ceremony. This year, "Emily Doe," as she's known, is one of the more prominent names among a slew of inspiring women (and Bono, oddly) on the list, ranging from the International Monetary Fund's director Christine Lagarde, Simone Biles, and three women, Patrisse Cullors, Alicia Garza, and Opal Tometi, who founded the #BlackLivesMatter, among many others.
All of those women are awe inspiring. But Emily Doe (the name the Stanford survivor goes by to remain anonymous) has helped women all over the world speak up for themselves. Fighting rape culture isn't easy, and it was in large part to her letter last spring that it's entered the everyday American lexicon, and not just something advocates talked about amongst themselves.
Because of her, according to Glamour, rape hotlines took more calls and received requests to volunteer. After her assailant, Brock Turner, was given a light sentence, women across the country rallied to unseat Judge Aaron Persky. That feat proved harder than it sounded, but California did close a loophole that allows lighter sentences for cases where the victim is unconscious or intoxicated.
Her letter for Glamour recounts her experience after her letter, originally published on BuzzFeed, went viral. She writes, "I remember thinking, what have I done, making myself exposed and vulnerable again. I texted my sister when it hit 20,000 views, thinking that was it, the comments were actually quite nice, and I closed my computer."
As we all know, that wasn't the end of it. She writes that she was sitting her pajamas eating cantaloupe when she got the notification that vice-president Joe Biden had called her a "warrior." And she is a warrior — not just because she had to suffer in the wake of her assault and stood up for herself in court, but because she continues to speak out, even though it must be traumatizing every time she does. She also gives a little out shoutout to everyone who read her letter, really heard her words, and saw her fully and not just as a "floppy" person behind a dumpster.
Some comments, like a person who wrote they hoped their daughter didn't "end up" like her, kept Doe going. Because it's about survival and pushing through. Because hoping that someone doesn't "end up" a rape victim isn't the way to change the status quo. She writes:
If you think the answer is that women need to be more sober, more civil, more upright, that girls must be better at exercising fear, must wear more layers with eyes open wider, we will go nowhere. When Judge Aaron Persky mutes the word justice, when Brock Turner serves one month for every felony, we go nowhere. When we all make it a priority to avoid harming or violating another human being, and when we hold accountable those who do, when the campaign to recall this judge declares that survivors deserve better, then we are going somewhere.
Recently, The New York Times reported that many college campuses are focusing on the women and tightening their policies about alcohol on campus. That's great — everyone should drink less, maybe. But that's not the issue. Emily Doe gets it. Most women and men get it.
Yet again, Emily Doe gets right to the heart of what it means to be a woman, to be a survivor, and to enact change.
...To the one who said, I hope my daughter never ends up like her, I am learning to say, I hope you end up like me, meaning, I hope you end up like me strong. I hope you end up like me proud of who I'm becoming. I hope you don't "end up," I hope you keep going. And I hope you grow up knowing that the world will no longer stand for this. Victims are not victims, not some fragile, sorrowful aftermath. Victims are survivors, and survivors are going to be doing a hell of a lot more than surviving.
As hard as it must be for Doe every time she speaks out about her assault and the aftermath, she keeps doing it. For that, every one — men and women — should be thankful. She might be "the" woman of the year for 2016, but her words and her story will continue to empower survivors for a very, very long time.