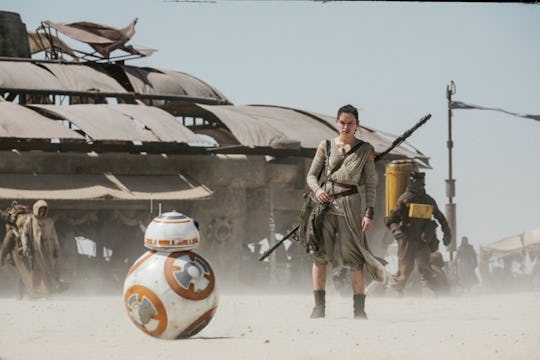 'Star Wars: The Force Awakens' Breaks Box Office Records, But You Probably Already Knew That
It's hardly surprising that Star Wars: The Force Awakens' box office broke records. After all, over the past few months, the film was inescapable. Not only were all of your Star Wars-obsessed friends talking about the film, but celebrities were dressing up in honor of the movie, and, like, even oranges were too.
And it seems all the marketing (and, of course, the built-in marketing of decades of anticipation and hopes for a follow-up to the dreaded prequels) more than paid off. Because Star Wars: The Force Awakens brought in a whopping $238 million this weekend — making this the biggest weekend for any film ever, easily beating this summer's Jurassic World, which brought in $208.8 million. And that's on top of the record it already set on Friday, when it grossed more than the previous one-day record holder, Harry Potter and the Deathly Hallows — Part 2, which picked up $91 million its opening day in 2011. Star Wars: The Force Awakens made $120.5 million. Seems the force is stronger than any wizarding wonders Harry Potter can conjure up.
And awards season as well. As The Wrap says, critical praise for The Force Awakens could bring about praise during the Oscars as well. Though blockbuster sci-fi films are typically relegated to the editing and special effects categories, The Wrap says J.J. Abrams' release is "already in the Best Picture discussion." And fans are loving it as well, giving it an "A" CinemaScore rating.
First, however, there's more money on the way. The Hollywood Reporter projects a global cull of $517 million. And Disney is certainly pleased. Said Walt Disney Studios chairman Alan Horn:
Our sole focus has been creating a film that delivers that one-of-a-kind Star Wars experience, and director J.J. Abrams, Lucasfilm President Kathleen Kennedy, and the Lucasfilm team have outdone themselves.
And it was necessary, considering, as The Hollywood Reporter notes, Disney handed out $4 billion to get the franchise from Lucasfilm.
Here's guessing Disney is now feeling a lot better about Episode VIII. Not to mention fans.
Image: Disney