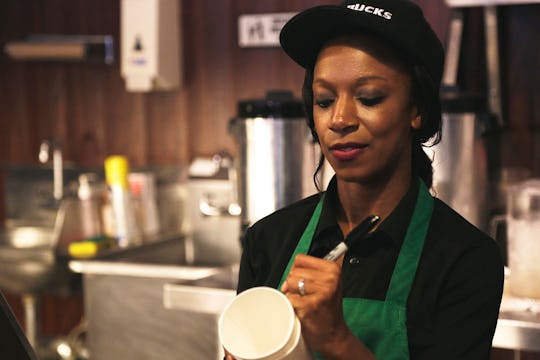 Dan R. Krauss/Getty Images News/Getty Images
Starbucks' New Employee Benefit Is Seriously Amazing For Women
There are so many costs associated with being a woman, especially when it comes to having and raising a baby. On average, according to a 2010 report from the United States Department of Agriculture, an average middle-income family will spend $12,000 on child-related expenses from their baby's first year of life — and thats just if they conceive naturally. Infertility treatments add on an extra stress of costs on top of that. Not a lot of company will foot this bill, but Starbucks now offers employees an incredible benefit for hopeful parents and it could not be any better news.
Yep, the company that fuels your addiction to pumpkin spice lattes this time of year can also help so many deserving couples get the support and treatments they need to start or complete their family. Starbucks covers $20,000 for in vitro fertilization treatments for all eligible employees, according to CBS News — even if they're part-time. On average, according to CBS News, a part-time barista (aka the person who so bravely makes your coffee every morning) makes $10,000 a year.
This is so amazing for those employees. Starbucks executive Lucy Helm explained to CBS News the reasoning behind the decision, stating that this decision is a natural progression for the company:
It's just been part of who we are, that if you work here and you put in the time, you're going to get the benefits that make you a full partner. It is really important to everyone and I think it's something that we're all very, very proud of. People fall in love with working for our company once they become partner here.
Providing compensation for IVF treatments is just another added bonus for working for Starbucks. If the IVF treatments are successful, Starbucks offers up to six weeks of paid maternity leave paid at 100 percent of their average pay and an additional 12 weeks of unpaid leave (making it the best parental leave policy for any major chain restaurant, according to Eater). The company also provides financial assistance to its employees who choose to adopt (up to $10,000 in reimbursement) and offers pay for time off needed to travel to pick up an adopted child or settle them even more. This is in addition to the fact that they reimburse their employees to attend Arizona State University online so they can receive their degree while being employed.
Now I'm not saying you should drop everything, walk into a Starbucks, and demand they hire you (although that would be sweet). But for so many families who struggle with getting pregnant (10 percent of women, according to the Office on Women's Health) this could be a beacon of hope. Especially since the cost of IVF is anywhere from $10,000 to $20,000 per treatment, according to Newsweek. The average Starbucks barista makes $9.56 an hour, according to Glassdoor.
When you have so many other expenses in your every day life, the last thing you want to do is put that money towards costly IVF treatments — but Starbucks is now making this easier to imagine. Hopefully other businesses take note of this awesome benefit and follow suit.
Check out Romper's new video series, Romper's Doula Diaries: