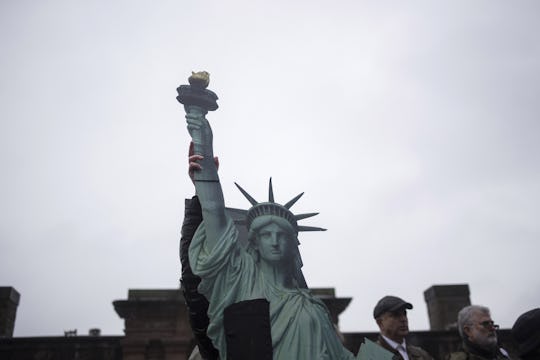 Alex Wroblewski/Getty Images News/Getty Images
State Department Lifts Refugee Restrictions
Every once in a while, we get to enjoy a little good news. Yes, the good news seems to come less frequently lately, which is what makes it all the sweeter when it arrives. Today... today is a day for good news. The U.S. State Department has lifted refugee limits, which is good news indeed for those human beings living in peril and seeking asylum.
According to The New York Times, the State Department quietly lifted the restrictions on how many refugees would be allowed in the country as of Friday. Refugee resettlement organizations all over the world were sent an email by State Department official Jennifer Smith on Thursday, letting them know that they would be allowed to bring refugees into the country "unconstrained by the weekly quotas that were in place." Previously, these organizations were only allowed to bring 830 refugees per week into the country; refugee advocates told The New York Times that number could nearly double within the first month. These advocates predicted that tens of thousands of refugees, who have gone through the two-year application process to be granted admission into the U.S., could potentially start arriving in numbers as high as 1500 people per week.
Romper reached out to the White House for comment and is awaiting a reply.
The decision to lift the refugee quota restriction is not related to President Trump's controversial attempted travel ban against 6 predominantly Muslim countries imposed in January. The State Department refugee limits were reportedly put in place due to budgetary constraints. Coincidentally, a Virginia federal court of appeals upheld an injunction against the Trump administration's travel ban on Thursday. Judge Roger Gregory of the 4th Circuit Court of Appeals refused to reinstate Trump's travel ban, saying the president's executive order was blatantly discriminatory and could potentially hold up pending visas for travelers. Judge Gregory also noted the executive order:
speaks with vague words of national security, but in context drips with religious intolerance, animus and discrimination.
The refugee quotas were largely restricted due to a spending cut imposed by Congress last fall, which limited the State Department's budget for refugee resettlement costs. While the budget may have been tightened, no restrictions were included by Congress against refugee resettlement.
The New York Times spoke to an unnamed State Department spokeswoman, who confirmed that the Department of Justice was consulted before the weekly limits were lifted.
In the coming weeks and months, thousands of frightened, exhausted, wounded souls will find new homes. They will find food, and safety, and (I sincerely hope) acceptance. Children will go to school, parents will find jobs. Their lives will begin anew.
And if that's not good news, I don't know what is.