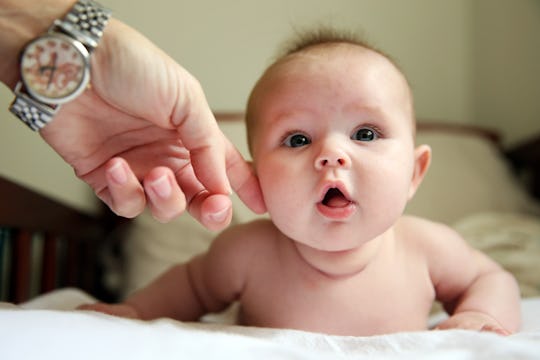 Fiona Goodall/Getty Images News/Getty Images
States With The Best Maternity Leave Laws Cherish Time More Than Most
Have you ever wondered if you're living in the right state? Ever thought about packing it all in and moving? Sure you have... we all have. Particularly once you become a parent, and you want to make sure you're doing right by your family. Because each state has different laws and regulations when it comes to families, and some are (let's face it) a little more invested in family time than others. For instance, these states with the best maternity leave laws are clearly trying to make mothers a priority. And if you're thinking of where you might want to live or thinking of having a baby (or both), looking at a state's maternity leave laws wouldn't be the worst barometer to use.
A 2016 study by the non-profit advocacy group The National Partnership for Women & Families analyzed each of the 50 states (as well as the District of Columbia) on the 23rd anniversary of the Family Medical Leave Act (FMLA). This federal law was implemented in 1993 and allowed eligible employees the opportunity to take 12 weeks of unpaid, job-protected leave from their employer to care for their baby (or another family member in need, if that was the case). In the 23 years since the FMLA was enacted, some states have attempted to develop parent-friendly work policies. The study by the National Partnership for Women & Families looked at how each state was faring when it came to maternity leave laws, and assigned individual grades.
Two or three states came out head and shoulders above the rest.
California
The sunshine state earned itself an "A" for maternity leave efforts. Women living in California who work for an employer with a minimum of five employees are eligible for up to four months of maternity leave. They can also collect temporary disability payments during that time to cover two-thirds of their wages, up to a maximum of $490 per week. It's important to note that paid family leave in California also offers benefits to any "new parents who need time to bond with a new child entering their life either by birth, adoption, or foster care placement," and offers pregnancy accommodations at work like carrying lighter loads, extra bathroom breaks, and protected sick days. On top of their solid maternity leave laws, California is also the home to many delicious wines, so...
New York
New York didn't quite earn an "A," but an A minus" is nothing to sniff at either. The state has passed laws that guarantee private sector employees eight weeks of paid family leave as of January, 2018 (and plans to raise the bar to 12 weeks of paid maternity leave by 2021).
District of Columbia
So how did the District of Columbia also manage to pull off a perfectly fine "A minus?" In December, the district passed new legislation that offers eight weeks of paid maternity leave to full and part-time employees working in Washington, D.C. if they have given birth, adopted, or welcomed a new child into foster care. The state also offers a healthy compensation for this time; up to 90 percent of regularly earned wages. On top of that, the District of Columbia offers pregnancy accommodations and a breastfeeding law that allows a mother to nurse her child "in any location, public or private, where she has the right to be with her child, without respect to whether the mother's breast or any part of it is uncovered during or incidental to the breastfeeding of her child."
There are other states that fared well in the study (Connecticut, Hawaii, New Jersey, Oregon, and Rhode Island all earned a "B plus"), but these top three states are clearly putting the time a parent needs with their child at a higher premium than most.
Applause all around.