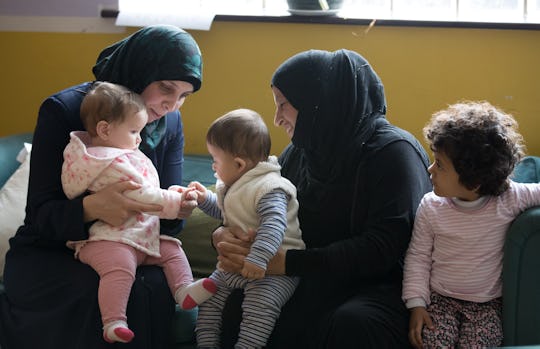 Matt Cardy/Getty Images News/Getty Images
Stats About Refugee Children Are Important For Awareness
In the last couple of years, across North American and Europe, both nationalism and populism have been making a startling comeback — and often, one of the sentiments driving those waves is a strong protectionist, anti-immigrant stance. In the past year, immigrants and refugees have been blamed for a host of crimes and multiple terrorist attacks, and politicians have doubled down on their promises to keep refugees out. But the statistics about refugee children simply don't back up this idea of dangerous refugees. Instead, they paint a dire picture of children who desperately need help.
On Tuesday, the United Nations said that the refugee crisis unfolding in Africa is now a "children's crisis," according to the United Nations Children's Fund. In four short years, a reported 1.8 million people — including more than a million children — have had to make their way to countries near South Sudan in order to escape violence. More than a thousand children are forced to flee the country every day.
The crisis taking place in South Sudan sums up a problem that many anti-refugee advocates ignore: when we turn away refugees, we're not closing our doors on terrorism or protecting jobs — we're mainly ignoring the needs of vulnerable children. When countries demonize a foreign group of people who have had to abandon their homes and their lives in order to escape horrific violence, what they're really doing is turning their back on children. And here's the reality of what refugee children are already facing.
They Make Up The Majority Of Refugee Populations
According to UNICEF, children make up approximately half of all refugees, and there are nearly 50 million children displaced from their homes around the world. "Indelible images of individual children — Aylan Kurdi's small body washed up on a beach after drowning at sea or Omran Daqneesh's stunned and bloody face as he sat in an ambulance after his home was destroyed — have shocked the world," Anthony Lake, UNICEF's executive director, said in a statement in September. He continued:
But each picture, each girl or boy, represents many millions of children in danger – and this demands that our compassion for the individual children we see be matched with action for all children.
They're Increasingly Seeking Asylum As Unaccompanied Minors
Refugee children leave their home countries because they face violence, conflict, extreme poverty, and gang violence — and a growing number of children are escaping dire situations on their own. Since 2015, UNICEF has reported 300,000 unaccompanied minors seeking asylum around the world. A shocking 92 percent of the young refugees reaching Italy by boat in 2016 were traveling without their parents, according to Al Jazeera, and 100,000 minors were caught crossing the U.S.-Mexico border without guardians.
Unfortunately, those reported numbers are expected to represent only a fraction of the number of minors traveling solo — and once they do land in a country, the reality facing unaccompanied minors seeking asylum in court is sadly difficult.
Their Education Suffers, Making It Hard To Build A Future
While 91 percent of children around the world attend primary school, only 50 percent of refugee children get to do the same, according to a 2016 report created by the United Nations Refugee Agency. As the children age, their chance at receiving an education worsens: while 84 percent of teens around the world are enrolled in secondary school, only 22 percent of refugee adolescents receive the same education. And while 34 percent of people around the world make it to university, only 1 percent of refugees will make it to higher education.
The odds are already against refugee children, and denying them a safe place to go only worsens the situation for them. For those who would like to make a difference for kids on World Refugee Day, there are luckily quite a few great organizations that help refugee kids — so no matter how helpless you feel, you can make a positive impact.