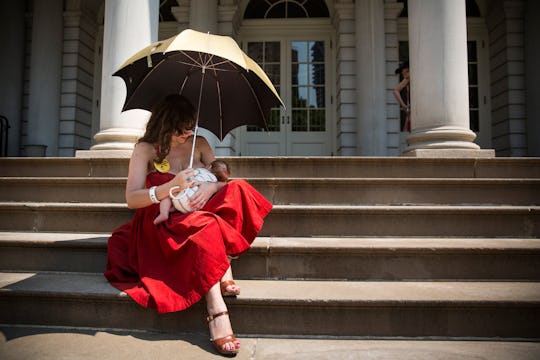 Andrew Burton/Getty Images News/Getty Images
Breastfeeding Now Vs. Breastfeeding 20+ Years Ago
The benefits of breastfeeding have been touted among mothers, scholars, and researchers alike for years now. And while many across the world will readily admit that the positive effects of breastfeeding are indisputable, it is still a pretty hotly debated issue among mothers and health experts for a variety of reasons. Given the myriad stats on breastfeeding now versus breastfeeding 20+ years ago floating around out there, that really isn't so shocking either.
According to the Office on Women's Health, in the Department of Health and Human Services, breastfeeding can work to "protect your baby, benefit your health ... make your life easier, [and] benefit society." From lowering the risks of breast cancer, ovarian cancer, and type 2 diabetes in mothers, to lowering the risk of asthma, infections, leukemia, sudden infant death symptom, and type 2 diabetes in infants, the upside to breastfeeding is pretty apparent. For everyone who can, doctors urge, breastfeeding should be considered for its long list of positives.
Yet, despite all it's glory, research is still out there that claims "there are inconsistent associations among breastfeeding," as well as refreshingly positive data on children who have been bottle-fed or formula-fed. Because of this, the gap between mothers who breastfeed and mothers who formula feed (for whatever reason, physical or otherwise) has only grown, it seems. Just look at the #BreastIsBest versus #FedIsBest debate currently circling social media to see how vicious things can get.
Unfair conclusions are regularly drawn about both breastfeeding moms and the looked-down upon "class of mom who, in a pinch, might feed her baby mashed-up Chicken McNuggets," as The Atlantic national correspondent Hanna Rosin wrote in a 2009 column about her experiences cutting off breastfeeding early. (Rosin noted that reactions to her admission — that she wanted to stop breastfeeding after a month or so — was met with "icy politeness.")
Compounding the larger issue is the fact that not all debates are necessarily "breast is best" versus "fed is best" — some of the debate has taken place within those factions as well, with some claiming the benefits of breastfeeding for infants is more important than any benefits for mom, and others arguing over the end-point at which mothers can stop breastfeeding.
Unfortunately, this isn't a new trend. These numbers, studies, and stats from 20 years ago prove that the back and forth (sometimes "icy") dialogue over how to feed babies has been long-running, to say the least. More importantly, it proves that, with so many ever-changing numbers and facts to sift through, forcing any opinion on any other parent is likely a bad idea.
Read on to see how once-concrete assumptions about both breastfeeding and formula feeding have changed over the years.
Then: Breastfeeding Strongly Affects Children's Health
A study from 1997 entitled, "Protective effect of breastfeeding on invasive Haemophilus influenzae infection: a case-control study in Swedish preschool children," claimed that the risks of kids contracting Haemophilus influenzae (HI) meningitis was lower when they were breastfed for at least 12 months.
Now: Breastfeeding Has An Impact On The Mother's Health Too
While much of previous breastfeeding research has pointed to the numerous benefits breastfeeding has on the infants, this new study from 2016 points to the positive effects breastfeeding has on the mother. The study concludes that "breastfeeding has a larger impact on women's health than previously appreciated." The study especially looks at cases of breast cancer in women who didn't breastfeed versus those who did.
Then: Less Than 25 Percent Of Mothers Were Breastfeeding Six Months Postpartum
According to one study, in 1995, "Only 21.6 percent of mothers were nursing at 6 months, and many of these were supplementing with formula." This study took a good, hard look at the state of breastfeeding in the United States at that time, and definitely proved that few mothers preferred to continue breastfeeding long after delivery.
Now: More Than 50 Percent Of Moms Are Breastfeeding Six Months Postpartum
The Centers for Disease Control and Prevention's 2016 Breastfeeding Report Card shows that, today, 51.8 percent of mothers continue to breastfeed their children six months after delivery. The CDC states that its goal is to get that statistic up to 60.6 percent.
Then: Only 1 to 5 Percent Of Women Can't Produce Enough Milk To Breastfeed
This particular study, which looked at 319 women, prompted a flurry of discussion on the topic; Breastfeeding advocates used it to encourage other mothers to breastfeed and questioned them when they said they couldn't. (The study has since been highly disputed.)
Now: More Reasons Contribute To Insufficient Milk Supply
In a 2013 Chicago Tribune article, one of the authors of the 1990 study actually said that, "a significant number of Western women," are unable to breastfeed. A study also claims that, "55 percent of the women in the study produced half or less than half of the milk their babies needed." And as Romper's own Karen Fratti recently pointed out, "An estimated 15 percent of women have trouble producing enough milk to feed their babies for a number of reasons."
Then: Hospitals Didn't Provide Enough Breastfeeding Support
A 1994 study titled "Infant formula distribution and advertising in pregnancy: a hospital survey" looked at how baby formula providers use birthing centers as a way to advertise to mothers and sell their products, and the effect that this had on the amount of mothers who breastfeed. "The continued participation of prenatal caregivers in promotion efforts of formula companies provides a negative or mixed message about the importance of breastfeeding and may be a barrier to its success," the study concluded.
Now: Hospitals Provide More Support To Breastfeeding Mothers
One of the CDC's main goals in providing more breastfeeding support to all mothers is to increase the number of lactation experts and "increase the rate of newborns who breastfeed exclusively throughout their hospital stay." The organization's most recent report card states that an increase of 18.3 percent of live births currently occur in facilities that provide breastfeeding care for mothers — definitely a positive change and one that will hopefully continue to trend.
Then: Breastfeeding Will Save Mothers A Lot Of Money
A 1996 study, "Potential cost savings for Medi-Cal, AFDC, food stamps, and WIC programs associated with increasing breast-feeding among low-income Hmong women in California," estimated that $459 and $659 was saved per year for breastfeeding mothers, and $597 and $808 overall for families who breastfed instead of formula fed.
Now: Breastfeeding Will Still Save You A Lot Of Money
While no new actual studies have taken on this subject, a research report looked at the annual cost of providing a baby with formula versus breast feeding, and came up with, "$1,733.75," in savings per year.
Then: Bottle-Feeding Portrayal Was "Detrimental"
A 1997 article from the American Academy of Pediatrics claims that the "media portrayal of bottle-feeding as normative," is detrimental to the breastfeeding cause. Truly, the fact that the World Health Organization stated that, "there should be an international code of marketing of infant formula and other products used as breast-milk substitutes," shows how powerful marketing, advertisements, and media in general can be.
Now: Media Portrays Breastfeeding As New Normal, But That's Not A Bad Thing
A 2013 research article, "Evaluation of breastfeeding promotion, support, and knowledge of benefits on breastfeeding outcomes," sought to examine how women who were exposed to knowledge of breastfeeding were more likely to implement the practice. The study concluded,
Mothers with greater knowledge about breastfeeding benefits were 11.2 times more likely to initiate breastfeeding and 5.62 times more likely to breastfeed at two months than those with lower levels of knowledge.
While the fact remains, that no one should shame mothers who don't breastfeed, the idea that media exposure and normalization of breastfeeding in popular culture can help mothers struggling to breastfeed still stands.
Then: Doctors Didn't Know Enough About Breastfeeding
The study "National assessment of physicians' breast-feeding knowledge, attitudes, training, and experience" from 1995 shows that doctors at the time didn't have sufficient knowledge or preparation about breastfeeding for mothers. In fact, the results proved that "all groups demonstrated significant deficits in knowledge of breast-feeding benefits and clinical management."
Now: Staff Is More Prepared For Breastfeeding Mothers
The CDC's 2016 annual breastfeeding report card states that national average of certified lactation counselors present per 1,000 live births was at 4.57. While this still doesn't seem like a large enough number, compared to 2007's 2.12 ratio, there is definitely improvement.
Breastfeeding and formula feeding ideas have shifted and evolved over the years. While it's a sure bet that this has caused much debate and discussion, when viewed as a whole, it gives moms everywhere a better idea of why jumping to conclusions and "breassuring" other moms to breastfeed or formula feed before understanding the full picture is a bad idea.