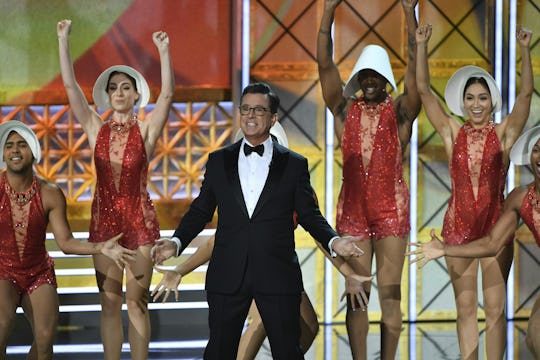 FREDERIC J. BROWN/AFP/Getty Images
Stephen Colbert's Butt Stole The Emmys & Yes, He Worked Hard For It
Stephen Colbert took his latest hosting gig at the 69th Emmys seriously. Like, really seriously. He got a little bit naked, guys, and some people noticed the extra effort he appeared to have put in. During a Westworld-inspired skit, Colbert's butt stole the Emmys. And with good reason.
Apparently, Colbert (who was hosting Sunday night's Emmys for the first time ever) was so committed to the scene where he showed off his rear that he decided to go full bronze. He told The Talk in an interview before the show aired:
We are in negotiations with CBS right now — because CBS has got the Emmys this year— about how much of my butt we can show. Because evidently, and I did not know this, you cannot show butt crack on broadcast television. I said, 'Wait a second, I don't even get to show my butt crack after getting totally naked? Do you know how much bronzer was rubbed on my body? Do you have any idea how intimate I have known my makeup lady? We've worked together for 20 years, we've never been more intimate than this week.'
And so, without further ado we give you... the bronzed bottom of Stephen Colbert. Possibly one of the signs of the apocalypse. But who cares.
I mean, if you needed just one reason to watch the Emmys, wouldn't that be enough? And do you think he got bronzing tips from the Great Bronzer Himself, President Donald Trump?
The Late Night With Stephen Colbert host starred in a skit alongside Jeffrey Wright (nominated for his role in Westworld) where he needed to be "reset" as the host of the Emmys, much like the characters of HBO's Westworld. Also like the characters of Westworld, he was naked. Whether we wanted him to be or not.
So a few comments on Stephen Colbert's butt (and no, I'm not going to pass judgment because come on, it's 2017). First, did they actually airbrush his buttcrack? Because that seems... unsettling.
Perhaps the bronzer Colbert used didn't quite get everywhere, if you know what I mean.
As Colbert was going through his reset in his swivel chair, across from the impressively stone-faced Wright, he explained that he had been malfunctioning "every day since November 8." In other words, the day Trump was elected president. So now he's thrown shade at Trump naked — what other late night host could say the same?
The icing on the cake that was Colbert's impressively bronzed behind? Tituss Burgess as a robot. Wearing a fancy hat and drinking an umbrella drink and merrily spouting, "Beep, bloop, bleep, whatever!"
Even when he put his tuxedo back on, Colbert was slaying as the host of the Emmys. He managed to bring Sean Spicer to the Emmys, despite how frequently he had made the former White House press secretary the butt (get it?) of his jokes on Late Night. Spicer rolled out to declare these Emmys "the most watched ever," trolling his former boss President Trump's grandiose claims about his January inauguration.
Colbert's monologue, and indeed the theme of the evening, was full of scorn for the political climate and (relatively) light-hearted mockery of the entire Hollywood juggernaut in general.
And yet, it was his bronzed butt, cold and slightly airbrushed on his weird futuristic Westworld chair, that truly set the tone for the show. Not his awkwardly entertaining opening song and dance number. Not his clever, cutting monologue. But it was his behind that stood out for fans. Perhaps because it was bronzed, yes, but also because, honestly, did you ever think you would see Stephen Colbert's butt? Seth Meyers, maybe, but not Colbert.
It was brilliant.