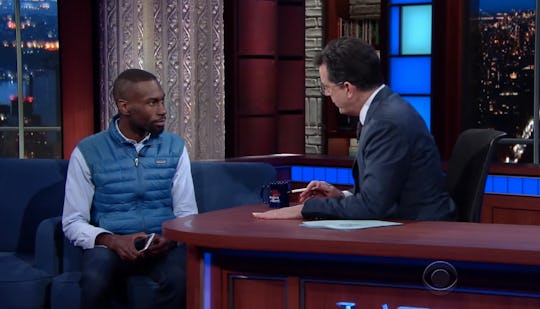 The Late Show with Stephen Colbert/YouTube
Stephen Colbert's Deray Mckesson Interview Was So Important For The Black Lives Matter Movement — VIDEO
Stephen Colbert's new role as the host of the Late Show might be the greatest thing since, well his last role as host of the Colbert Report — even if only because now he's able to speak (almost) seriously with really important people about really important things. Last night, Colbert interviewed Deray Mckesson, the activist most recently associated with Black Lives Matter and Campaign Zero, which is a ten point plan aimed at ending police brutality. The results were spectacular.
McKesson and Colbert discussed the Black Lives Matter movement, acknowledging that police brutality is a problem that needs to be fixed, and how to dismantle white privilege. On the surface, they didn't get into any specific details about McKesson's work towards ending police brutality. But as Mckesson said over and over again in Monday night's interview, the first step was creating a space for a dialogue.
The interview wasn't tense or awkward, even though it could have just as easily been with other hosts on competing networks. It also served as a really good example of how two levelheaded, informed, and compassionate people can come from different places and work their way through some tough questions.
Mckesson questioned why an open dialogue about racism was so hard. "I think people are uncomfortable talking about the racist history of this country and what we need to do to undo the impact of that history," he explained, answering his own question. "But we can't change it unless we address it."
On police accountability, Mckesson noted,
I think there are many dangerous professions in the country and the police have the power to kill people. And that means they have a different responsibility and accountability that isn't present right now. So they kill people and they aren't accountable for that we haven't seen many indictments or convictions across the country and that just isn't OK.
About midway through the discussion, Mckesson and Stephen switched seats so that Mckesson could ask the late night host about how to work through his white guilt and use his privilege for good. It was a cutesy move that also served its purpose.
After some lighthearted joking about how Colbert supposedly drank to get through his white guilt, they talked about how important it was to have a space to talk about racism in modern culture. "I have you on my show, does that count?" Colbert asked jokingly.
Actually, it did. Colbert, who is known for having on diverse guests and having provocative conversations, doesn't typically shy away from discussing things on his show that might offend or surprise traditional late night viewers. Like he said in Monday's interview from, when he wore a Black Lives Matter bracelet on the show one evening, the collective reaction was as if he "had slapped a baby." That's saying something.
Mckesson also took time to explain that politicians who wanted to talk about "All Lives Matter" or avoid the conversation were worsening the problem. "It's such a distraction, if all lives matter was true we wouldn't have to be out in the street," he lamented. "We know its not these isolated events, we know it's a systemic problem."
As the country discusses police brutality and racial inequality throughout this election cycle and questions about diversity at the Academy Awards control news headlines, it doesn't work to avoid having conversations like Mckesson's and Colbert's any longer. Eventually, the country will have to actually ask politicians about actual policy changes they are willing to back to work towards ending police brutality and create an equal space for everyone.
Right now, talking about it on late night television is a good place to start. As Colbert and McKesson said last night: Baby steps.
Image: The Late Show with Stephen Colbert/YouTube screengrab