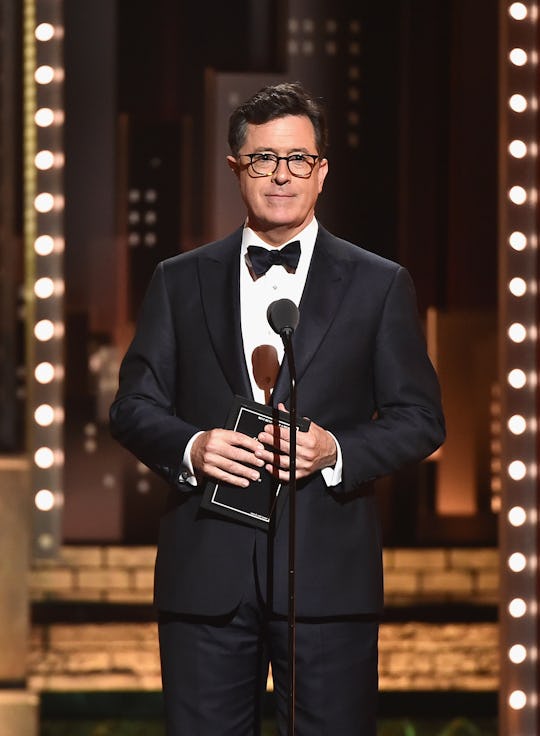 Theo Wargo/Getty Images Entertainment/Getty Images
Stephen Colbert's Opening Monologue At The Emmys Was Epic
Expectations were high for Stephen Colbert on Sunday night. The host of CBS' Late Show With Stephen Colbert has never hosted The Emmy Awards before, and he's been having something of A Year. Colbert has been unapologetically incendiary throughout the recent politic upheaval, and has been gunning for President Trump especially. So when he took to the stage on Sunday night, the question wasn't whether Trump would be mentioned in Colbert's opening monologue, it was when. And how often. And how delicious would his sweet, sweet burns get?
Colbert himself wasn't making any secret of which particular television star he would be taking aim at during his monologue; he told Variety that he planned to continue to ride his anti-Trump tirade that has unquestionably kept him at the top of the late night game (Colbert claims the highest number of viewers of any late night talk show, a relatively new phenomenon that began right around President Trump's election, according to The New York Times). Colbert told Variety that he wasn't averse to last-minute changes, but he knows what the audience is expecting from him:
The biggest story of the year is not 'Westworld. It's not 'The Handmaid's Tale.' It's not Milo Ventimiglia's luscious abs. That's not what we cared about. The biggest TV star of the year is Donald Trump.
While Colbert clearly has his fans, not everyone was happy to see him hosting the 69th Primetime Emmys on Sunday. Trump supporters of all kinds took to social media to express their outrage that he had been chosen to host television's biggest night, particularly in the wake of some of his more volatile comments about President Trump and his administration at large. In fact, Colbert's late night monologue became a never-ending roast of President Trump. While Colbert admitted in that same interview with Variety that he wouldn't be using his speech at the 2017 Emmys as a "political monologue," he also acknowledged that politics has become a major part of television: "... but you can't keep politics out of it, because politics was the biggest TV story this year."
Especially when the sitting president was (and arguably remains) a self-styled television star in his own right. A television star who has repeatedly been triggered by his portrayal on television, both by late night hosts and Alec Baldwin's Emmy-nominated impression of him on Saturday Night Live.
One wonders how President Trump reacted to Colbert's monologue. After a lovely tribute to the first responders who worked so tirelessly to aid victims of Hurricane Harvey and Hurricane Irma, Colbert eventually got in to the good stuff.
The biggest TV star of the last year is Donald Trump... and Alec Baldwin. You guys are neck and neck. And Alec... you're up against a lot of neck.
Colbert noted that Trump was nominated for several Emmys for The Apprentice, but never won. And that, he theorized, was the beginning of the end.
If he had won an Emmy, I bet he wouldn't have run for president. So in a way, this is all your fault.
He never forgave you. And he never will. He never forgave you, and he never will.
After noting that the Emmys "unlike the presidency" are won by the popular vote, Colbert brought out the big guns. Former White House press secretary Sean Spicer rolled out behind a moving podium. And in a reference to his own assertion about the president's inauguration crowd numbers in January, Spicer said the 69th Emmys have "biggest audience to witness the Emmys, period."
Epic.
As we wait for President Trump's stoic silence/furious tweet at 3 in the morning claiming Colbert is undoubtedly overrated (as he did with Meryl Streep), the rest of the internet has weighed in.
The 2017 Emmys could ostensibly be called The Year Of The Rookie. Not only was Colbert a newbie as an awards show host, new shows like Stranger Things, The Handmaid's Tale, and This Is Us were all heavy hitters at the show. And considering the poor ratings the Emmys have experienced in the last two years, perhaps it was time to shake things up a bit. Sure, there were plenty of people who insisted they would not watch the show specifically because Colbert could be expected to tell some hard truths about the Trump administration.
But I have a feeling his monologue drew them in anyhow. Just, you know, to see what he would do.
And it was totally worth it.
Watch Romper's new video series, Romper's DoulaDiaries:
Check out the entire Romper's Doula Diaries series and other videos on Facebook and the Bustle app across Apple TV, Roku, and Amazon Fire TV.