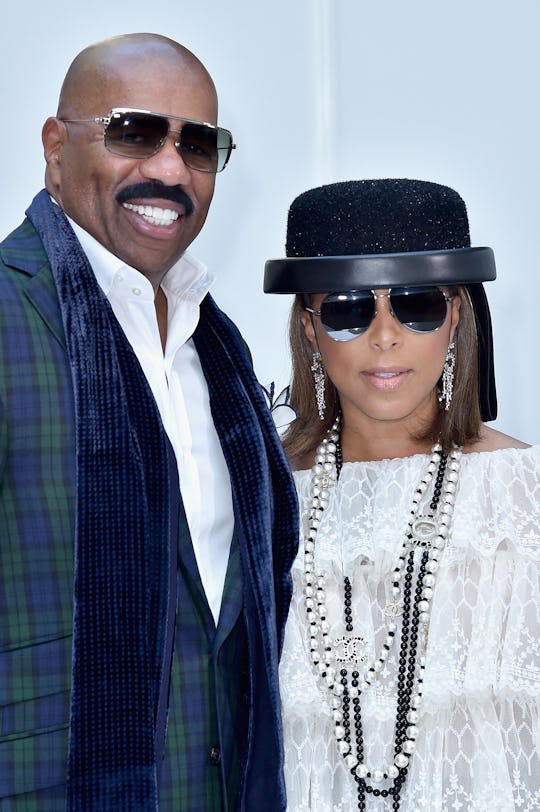 Pascal Le Segretain/Getty Images Entertainment/Getty Images
Twitter Brings Steve Harvey Into Oscar Snafu, Obvi
As host of the 2015 Miss Universe Pageant, Steve Harvey once famously called out the wrong winner's name. That seemed like one of the most embarrassing things to happen on live television. But that was before La La Land was erroneously handed the Best Picture Oscar by presenters Warren Beatty and Faye Dunaway instead of actual Best Picture winner Moonlight. Now Steve Harvey Tweets about La La Land winning Best Picture are taking over social media, because the internet never forgets.
In perhaps one of the most awkward moments to happen at the Oscars in recent memory, Bonnie and Clyde co-stars Faye Dunaway and Warren Beatty presented La La Land with the Best Picture Oscar. There were a lot of hugs, a lot of tears, and a lot of confusion. As the movie's producers took their turns offering heartfelt speeches about following their dreams, Oscar producers were grimly going from person to person, ostensibly to let people know they had not won the Oscar for Best Picture. It was oddly reminiscent of the moment when Steve Harvey gave the Miss Universe crown to Miss Columbia, only to come back on stage moments later to admit he had made a mistake and the winner was actually Miss Philippines, according to Us Weekly.
Harvey went on The Tonight Show with Jimmy Fallon in December 2016, and said his error was "four minutes of pure hell." So he would probably uniquely empathetic to the plight of the Oscar producers who reportedly gave Beatty the wrong envelope for Best Picture, according to Yahoo News (the actor said that the envelope he had been handed was the Best Actress envelope for Emma Stone in La La Land, which was why he paused after opening the envelope).
Naturally, the internet couldn't wait to start up with the Steve Harvey La La Land jokes. Some figured Harvey would be pumped that someone else had blown it on live TV.
Others suspected nefarious games afoot, like maybe Harvey had been taking a ride in the mystery van with Scooby Doo and the gang.
Admittedly, you can't help but feel awful for both film crews; both La La Land and Moonlight alike. I guess that's what happens when you get Harvey'd.
I really hope both film crews get together for a good party tonight to put the disastrous flub behind them. And I hope Steve Harvey is somewhere, chuckling slyly to himself.