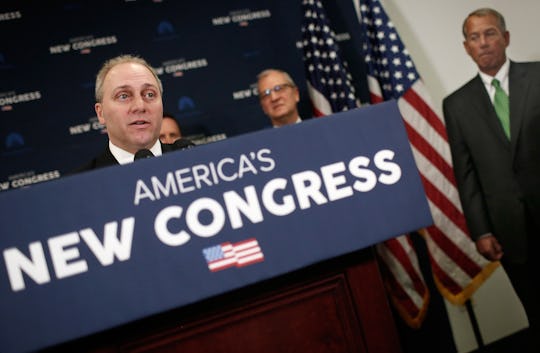 Win McNamee/Getty Images News/Getty Images
The Alexandria Shooting Again Highlights Gun Safety Problems
On Wednesday, House Majority Whip Steve Scalise, U.S. representative for Louisiana's 1st district, was shot in Alexandria, Virginia, by a 66-year-old gunman from Illinois, as he and nearly two dozen other congressmen were practicing for a charity baseball game, according to The Washington Post. Within hours of the Alexandria shooting Wednesday, which left at least another four people injured, has already been politicized by both Democrats and Republicans, especially on the issue of gun safety. Here's the thing, though: Steve Scalise being a Republican doesn't make the issue of gun safety any less important.
Scalise sustained a gunshot wound to his hip and was taken to an area hospital for surgery. A statement released from his Washington, D.C., office said that Scalise, a 51-year-old father of two, is in stable condition and had spoken to his wife prior to entering surgery. Messages of support for Scalise and the other shooting victims have poured in on social media, including from President Donald Trump himself. Former Democratic Congresswoman Gabby Giffords — who was shot in 2011 and nearly died — offered her thoughts to all the victims of Wednesday's shooting as well.
Reports regarding the alleged gunman have already begun to cast a political motive for Wednesday's shooting: Social media was lit up with charged and even vitriolic posts about the politics and optics of the shooting, despite the recency of the incident and an ongoing investigation.
Take for example, Paul Joseph Watson, editor-in-chief for the alt-right website Info Wars:
Or former member of the Pussycat Dolls, Kaya Jones:
Before any information about the alleged gunman was made public, there were folks on the right who were almost gleeful about capitalizing on the potential of a politically motivated attack on American congressmen, their staffers, and protective detail. The alleged gunman, who has since died after being shot by police, was vocal on social media about his anti-Trump sentiments prior to Wednesday's shooting, according to The Telegraph. But it's not enough that there were those on the right pointing fingers at the left, as there were plenty from the left pointing fingers back at the right.
As in any instance of a mass shooting, as Wednesday's was, the political ideology of both the victims and the alleged shooter shouldn't really matter. The most basic fact of the story — when you strip away political party, race, class, gender, and everything else — is that one human tried to shoot and kill a whole lot of other humans. Here's another basic fact: On average, 93 people are killed by gun violence every day in America, according to the Everytown for Gun Safety Support Fund.
Texas Rep. Joe Barton was present at Wednesday's congressional baseball game practice when the shooting occurred — as was his 10-year-old son. Arizona Sen. Jeff Flake, who was also in attendance, told reporters that Barton's son was rushed to the dugout and hidden under a bench when the shooting began. According to the Gun Violence Archive, 256 children have been killed or injured by guns in the United States just this year, as of June 1. Barton is lucky his son is not among those numbers.
Guns & Ammo ranked the United States as first in the 10 best countries to be a gun owner in 2014, citing that America "boasts the proudest tradition of firearm ownership in the world." The magazine also points out America's gun ownership rates are the highest per capita in the world as well, with an estimated 43 percent of homes containing at least one firearm, and as many as 90 million gun owners in the United States. But as a 2016 study in The American Journal of Medicine has found, the United States has the highest firearm death rate compared to 22 other developed nations.
Shannon Watts, founder of Moms Demand Action For Gun Sense In America, summed up the tragic reality of Wednesday's shooting in a sobering statement:
I am devastated by this morning's shooting tragedy and my heart goes out to Congressman Scalise, the Congressional staffers, Capitol Police, families and everyone affected. Americans should be able to play baseball, dance in a nightclub, and attend religious services without the threat of gun violence. We all deserve better.
America certainly does.