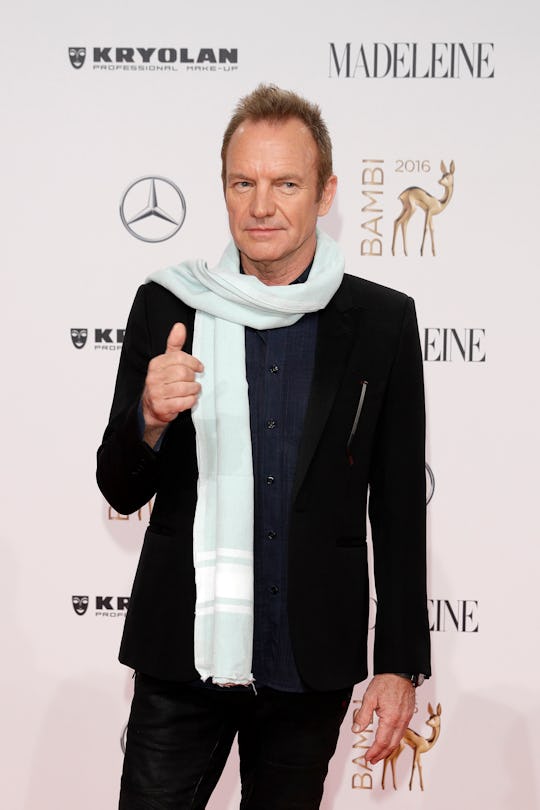 Andreas Rentz/Getty Images Entertainment/Getty Images
Sting Is Honored At The AMAs & His Music Is Still Holding Up
It feels like Sting has been around forever, probably because he has. He's been singing and looking all sexy and stuff since the '70s. And Sting was honored at the American Music Awards on Sunday night for basically that: being amazing for an incredibly long time.
Sting received the American Music Award of Merit, which is given to artists "who have made truly exceptional contributions to the music industry." The last time the American Music Award of Merit was handed out was in 2008 to Annie Lennox. Before Lennox, artists like Frank Sinatra, Whitney Houston, Johnny Cash, Billy Joel, and Bon Jovi were recipients. Personally, I'm a fan of this award because, unlike some of those "lifetime achievement" awards handed out, there's no implication that the artist has finished up their life so time to hand them an award and be done with it. Clearly, Sting (whose real name is Gordon Sumner) is as engaged in his work as ever. He is set to perform a medley of his greatest hits as well as "I Can't Stop Thinking About You" from his new album, 57th & 9th, on Sunday, as well as receiving his Award of Merit from actor and bestie Robert Downey Jr., so clearly the dude's still got it.
Sting wasn't always a singer; before becoming internationally famous as the lead singer of the reggae/pop band The Police, Sting was actually a teacher in London. He left his teaching gig (where I'm betting every single student had a massive crush on him) to tour with The Police; the band stayed together until 1985, when Sting launched his epic solo career. Sting has been married to wife Trudie Styler since 1992, and I'm not sure if you've heard but they enjoy a very active sex life (Sting has been notoriously open about all of his yogic tantric sex with his wife, but that's not why he's winning the award, I'm sure).
As Robert Downey Jr. pointed out, "Sting is more than a man or his music." Maybe it's the whole one name thing, but who doesn't know about Sting? His music translates through the ages; the audience was dancing to his most recent single as well as classics like "Message In A Bottle", "SOS", and my fave "Every Breath You Take".
In his acceptance speech, Sting thanked his American fans in particular. He referred to American music's "most influential export; rock and roll." He went on to say, "While I may be an English man in New York, my soul is all American."
Sting was just one of the world class performers scheduled to strut their stuff on the stage at the AMAs on Sunday. This year Lady Gaga, Kendrick Lamar, John Legend, and Bruno Mars were just a few of the artists slated to perform.
The AMAs were initially created by Dick Clark in 1973 as the "world's biggest fan-based awards show", with winners being chosen exclusively by the public. So essentially, it's the biggest popularity contest for musicians around right now. Which means Sting is still super popular. Congrats!