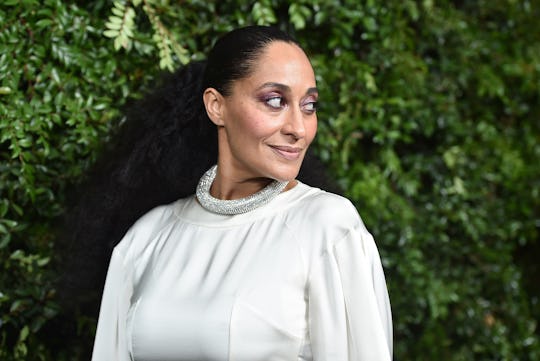 Alberto E. Rodriguez/Getty Images Entertainment/Getty Images
Tracee Ellis Ross' Response To Your Baby Questions Deserves A Standing Ovation
I have never understood this thing people do to women without kids. Asking them all the time about when they're going to have a baby like that's the only possible path a woman could want to travel, then asking them again and again until I don't know, they finally get the answer they were hoping for, I guess. If that's what people are hoping will happen with this Black-ish actress, they might want to knock it off. The press and fans might want to stop asking Tracee Ellis Ross if she wants kids because she's really not having it from this point forward. And honestly, amen to that.
For the past four years, the 45-year-old actress has played Rainbow Johnson, the matriarch on Black-ish alongside Anthony Anderson. Ross is also the daughter of Diana Ross, something I personally find infinitely more riveting than whether or not she's planning to have a baby. But I guess not everyone agrees with me.
In an interview in this month's Vanity Fair, Ross was characteristically unabashed when discussing her career and her personal life. Or perhaps more to the point, the public interest in a certain part of her personal life. Especially after she spent an entire season of Black-ish pregnant, apparently. As Ross told Vanity Fair, "That brought on a lot of comments and questions and pontifications from people with no invitation."
Unfortunately for those doomed pontificators out there, Ross is not one to take nonsense lightly. Nor is she someone who will let that inherently sexist notion that all women simply must want a baby go by without calling people out on it. Ross told Vanity Fair, according to E! News:
I literally have said to people, for real, no joke, "Why don't you just get out of my womb? Like, get out of my uterus. What are you doing in there? And why are you asking those questions? And what makes you think you can ask that?"
I'm not 100 percent sure why people would see a woman playing a pregnant mother on screen and immediately jump to the conclusion that she should want to be a mother now. After all, Ross has been playing an anesthesiologist for just as long. Do people also need to start asking when she's going to start medical school next? Black-ish is a great show, guys, but it is fiction, you know.
Feminist activist Ross, who recently gave a truly superb TED Talk called "A Woman's Fury Holds A Lifetime Of Wisdom," points to a deeper issue behind all of the questions about her uterus. In her interview with Vanity Fair, the Time's Up advocate called out the patriarchy for trying to convince women there was only one way to have a happy life.
Part of what patriarchy has created for women is this siloed-off experience, with one answer for what a good life looks like.
As frustrating as it is to deal with this persistent tunnel vision about women and children, don't go worrying about Ross. She is a woman who is lucky enough to be able to call on some of the strongest, most talented, independent women in the world as influences in her life. Namely, her own mother Diana Ross. A trailblazer of epic proportions who informed Ross on how to find her own path in life instead of towing the line, as she said in a 2017 interview with W Magazine:
I was raised by a woman who lived out her dreams. So she's not living them out through me, or her children. She really gave us space and the courage to live the lives that we want to be living, and to have time to dream and conjure up the life that I wanted to be living. I could really curate or design the world I wanted to be living in.
Ross paid attention to her mother's words; at the Glamour Women Of The Year Summit in January, the actress had this to say about her own life:
I'm going to pay attention to the reality of my life and the audacity of my dreams instead of the expectation I was raised with.
If she can have the "audacity" of her dreams, perhaps the rest of the world can show a little respect. Stop asking Tracee Ellis Ross, indeed any other woman out there without children, when they're going to have kids.
Because there are other paths to be walked, and other dreams to be lived, beyond motherhood.