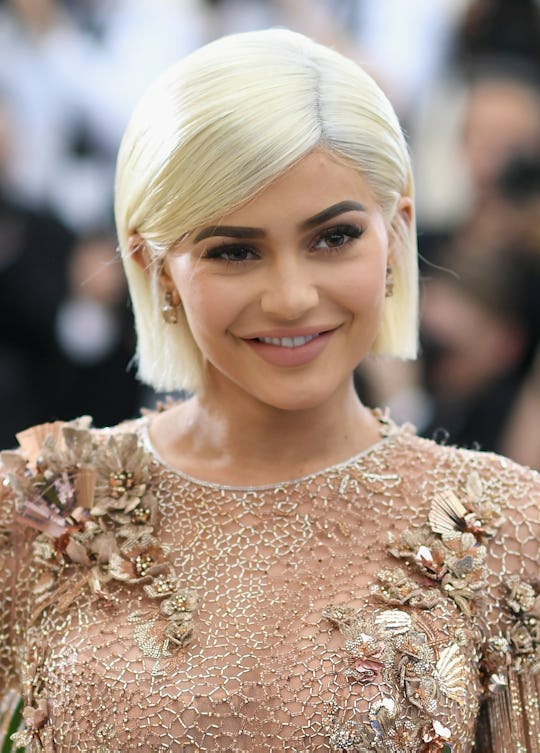 Dimitrios Kambouris/Getty Images Entertainment/Getty Images
Stormi Webster's Birth Certificate Puts The Butterfly Rumors To Rest Once & For All
On Sunday, Kylie Jenner announced the birth of her first daughter, Stormi Webster. Naturally, fans have a lot of questions about little Stormi, including the details surrounding her name. Thankfully, all of the rumors about her moniker were cleared up on Thursday when TMZ released Stormi Webster's birth certificate. And if you've been betting on a few theories about a certain insect, you might be disappointed.
Just four days after Jenner's big announcement, TMZ shared the details of her birth certificate. As Jenner outlined in her pregnancy reveal video, Stormi entered the world on Feb. 1 at 4:43 p.m. at 8 lbs. 9 oz. The interesting part about the birth certificate, however, is what it doesn't include. It turns out Jenner didn't give Stormi a middle name, which debunks the butterfly rumor once and for all. You see, many internet sleuths (I really appreciate your hustle, guys) thought Jenner would somehow incorporate a butterfly into Stormi's name. Jenner and Stormi's dad, Travis Scott, both got matching butterfly tattoos back in June, according to Refinery29, and the baby's nursery is adorned with the beautiful insect.
Kris Jenner added fuel to the butterfly theory on Tuesday when she promoted Jenner's new lip gloss, "Posie K," according to E! Online. Fans assumed Posie was short for Mariposa, which means butterfly in Spanish.
Personally, I thought the butterfly theory was a solid one. From all the butterfly imagery to Kris' seemingly hinting at the moniker in her Instagram post promoting Posie K, I was convinced Mariposa would show up somehow.
But it turns out Jenner revealed Stormi's entire name in her Instagram post on Wednesday. "Stormi Webster," Jenner captioned an adorable shot of Stormi, according to PEOPLE.
So, what's the deal with all of the butterflies then?
It's totally possible that the butterfly is a symbol for Stormi, which would actually make a lot of sense given the meaning associated with the insect. A butterfly can symbolize rebirth, new beginnings, and most notably, positive change. And it's not far off to assume that Jenner sees her transition into motherhood as a happy and welcome transformation.
In fact, sources supposedly close to Jenner have said as much.
An insider revealed, according to E! News:
Kylie's first few days of motherhood have been the happiest of her life. She feels like being a mom is her true calling and there's nothing that's ever felt so right. Bringing the baby home has been the greatest joy and most sacred experience, she is elated and overjoyed. Kylie felt so ready to meet the baby and had been counting down the weeks for what felt like forever, she can't believe she's finally here and in her arms and this journey is beginning.
Note the mention of the words "journey" and "beginning." Stormi is undoubtedly Jenner's new beginning, aka her little butterfly. As for why Jenner didn't go as far to use this gorgeous symbol in naming Stormi, that's unclear at this time. Who knows, Maybe Jenner was inspired by Kim Kardashian's no-middle name trend. As you might have already noticed, all three of Kardashian's kids lack middle names.
Kourtney Kardashian, however, did give all three of her kids middle names: Penelope "Scotland" Disick, Mason "Dash" Disick, and Reign "Aston" Disick. It just goes to show that the Kardashian and Jenner sisters are each unique in their own way, especially when it comes to their kids.
As for how the internet is reacting to Jenner's decision to not include butterfly in Stormi's name, it's safe to say many are ahem, frustrated:
It goes without saying, however, that fans don't have the right to be angry or annoyed with Jenner. Jenner clearly adores the name and that's all that matters.
Check out Romper's new video series, Bearing The Motherload, where disagreeing parents from different sides of an issue sit down with a mediator and talk about how to support (and not judge) each other's parenting perspectives. New episodes air Mondays on Facebook.