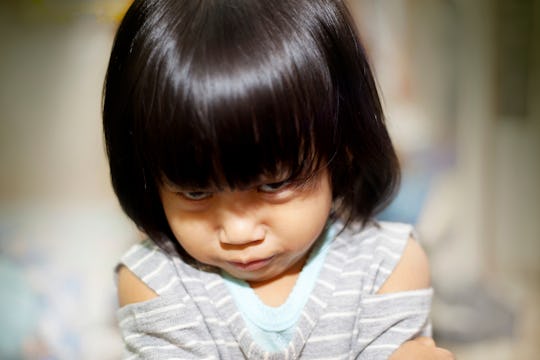 Shutterstock
Stranger Judging Your Tantruming Toddler? Here Are 13 Ways To Respond
Among the many annoying challenges a parent will face — diaper blowouts when you only have one wipe, sleepless nights, getting your nipples chomped on — few will be worse than your toddler throwing a tantrum in public. It's, of course, made all the worse by grown-ass adults who decide to behave poorly in response. So I've thought of ways to respond to this special breed of judgmental stranger, because, honestly, something must be done about this scourge of smug whiners.
Look, tantrums don't make sense to an adult brain, but they're a crucial part of a toddler one. They're natural and normal, and, chances are, every kid is going to have a whole bunch before they reach an age where they can just sort of deal. Because children this age can't properly articulate their feelings, like being tired or hungry or uncomfortable, they act out in frustration, according to Kid's Health. Eventually, they will learn to deal with that frustration, and throwing tantrums is part of that learning process.
I wish I could tell you the secret to putting a stop to tantrums in the moment. But the truth is, while there are some general rules about what to do and not to do, the specifics are going to differ from child to child and situation to situation. And sometimes there's nothing to be done, except, you know, not make it worse. It sucks. But who's to say we can't have some fun at the expense of obnoxious strangers in the meantime, right?