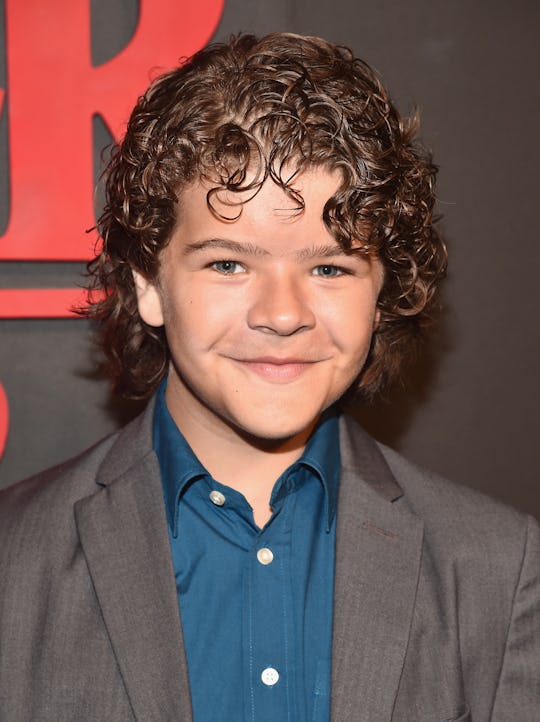 Alberto E. Rodriguez/Getty Images Entertainment/Getty Images
'Stranger Things' Gaten Matarazzo Sings 'Les Mis' & Melts Everyone's Hearts
Here is what I love about Stranger Things on Netflix: everything. I love that it reminds me of being a kid, and I love that it's unique and familiar at the same time. But mostly, I just really loved the kids of Stranger Things because they seem like real kids. Regular, goofball kids who get into weird situations and step up with that courage only kids really understand. Except, they aren't really regular kids at all. They are exceptional, as evidenced by Stranger Things' Gaten Matarazzo singing Les Mis and stunning everyone with his outsized talent. Also, he sort of stunned me because I didn't hear his trademark lisp, but it's ok I'll be fine.
Matarazzo (who plays Dustin, the Dungeons and Dragons-loving, lisping, girl-fearing sweetheart) is not exactly a one-trick pony. As it turns out, the kid is a multi-faceted little 13-year-old with a crazy hidden talent. The kid has got some pipes. And it's not like he's belting out some Bieber or Sean Mendez or anything — Matarazzo is all about the showtunes. At a karaoke party last week, he was caught singing "Bring Him Home" from Les Miserables in front of a giant SpongeBob SquarePants (no word on the significance of SquarePants' presence).
He has the voice of an angel.
So a quick poll here, everyone: What's better about this video, the melodious sound of Matarazzo's voice, his adorable fedora/t-shirt/shorts combination... or the fact that he knows a song from Les Mis in the first place? For me it's a three-way split. You should know this isn't the first time Matarazzo has been the most adorable thing on the internet since kittens and pianos were a thing either:
And if that still wasn't enough to melt your cold, cold heart... here he is at the age of seven years old singing at the U.S. Open.
It turns out the whole gang at Stranger Things is chock full of talented, singing prodigies. According to Vulture, Eleven (also known beyond the Upside Down as Millie Bobby Brown) can rock covers like nobody's business, and Steve (he of the Elvis hair and questionable friends, Mr. Joe Keery) is a psychedelic rocker. But sweet little Gaten Matarazzo is singing on a different level.
Matarazzo once played Gavroche and Petit Gervais in Les Mis on Broadway. And here I was, thinking his main talent in life was being the most adorable group hugger ever.
I, for one, am ecstatic that the internet has taken to adoring 13-year-old Matarazzo like a duck to water. Because it means Dustin is still in my life. Also, it's going to be a long wait until Season 2 of Stranger Things. So there's that.