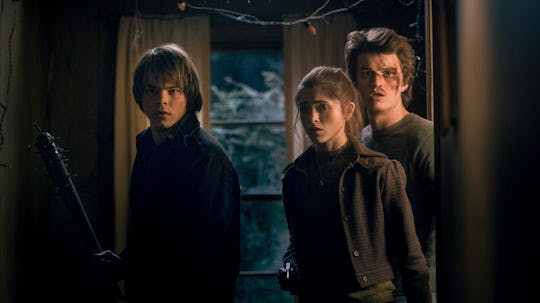 Netflix
'Stranger Things' Halloween Costumes For Kids, Because Buying Costumes Is So '80s
When you're a mom with a toddler, you suddenly realize that all the fun you had dressing up for Halloween in your not so distant youth means nothing now. Instead of heading out to your local Walmart to squeeze through the masses to find a cheaply made costume for your kid, making or putting together their costume is so much better. And what better way than to showcase your love then with some Stranger Things Halloween costumes for kids?
Don't get me wrong — I totally feel for the parents who would much rather shell out $20 on the latest superhero costume that is already put together and ready to Velcro onto their kid's body, but making your own Halloween costumes doesn't have to mean busting out the sewing machine that you haven't used since tenth grade home economics. Instead, it's about creating the costume with different items that, when put together, make the perfect DIY costume for your kid that will ensure them a unique place among their peers while trick-or-treating.
It will also give you tons of cool parent points, because if you have a kid that maybe enjoyed the first season of Stranger Things alongside you, they can definitely appreciate the way you've made them into a mini-Barb or a younger, smaller version of Steve.
Joyce
In Stranger Things, Joyce is a single mom, struggling with her job at the local grocery store where she repeatedly takes out advances on her paychecks, but she's also kind of a great mom where it counts. Both Will and Jonathan respect and love her so much despite any struggles they've faced as a family or individually, and dressing up like her would be badass.
An Army Jacket
Green Army Jacket, $23, Charlotte Russe
To be Joyce, you'll obviously need the green Army jacket she almost never takes off throughout the course of the first season of Stranger Things.
An Axe
Plastic Axe, $4, Amazon
Also an axe, but opt for this fake one so you (or your kid) don't look like a crazy axe-wielding person running the streets on Halloween.
Brown Striped T-Shirt
Brown Striped Shirt, $11, Walmart
Joyce also wears simple '80s-inspired t-shirts like this one pretty much all of the time.
Christmas Lights
Christmas Lights, $10, Amazon
And we cannot forget a hefty jumble of indoor Christmas lights. Who is Joyce without several strings of multi-colored Christmas lights?
Hopper
Aside from Joyce and the kids, Chief Hopper is the only one in town at first who believes that something wonky is going on in Stranger Things. It's Hopper who finds the listening device planted in his house and who works at helping Eleven and helping Joyce get Will back. Even if it's at some unknown cost with those mysterious suited government guys.
Sheriff's Hat
Sheriffs Hat, $15, Amazon
If nothing else on your costume looks legit, definitely get the requisite sheriff's hat.
A Uniform Shirt
Tan Uniform, $25, Chief Supply
This simple, basic tan uniform shirt tucked into jeans is pretty spot on for Hopper.
A Badge
You'll also need a badge, of course, to pin to that uniform shirt.
Eleven
Obviously Eleven is the breakout character of Stranger Things and it wouldn;t be a show without her. Well, we'd still have the creepy medical experiment lab right on the edge of town, along with the "upside down", but without Eleven there to help bring it all down (if only a little bit), it wouldn't be worth it.
A Pink Dress
Pink Dress, $23, Amazon
Get it a little dirty (or a lot), but a pink dress is a must when it comes to Eleven.
Blue Jean Jacket
Jean Jacket, $23, Amazon
Eleven got hers from Mike, but really any old or used or cheap jean jacket will work.
Striped Socks
Pair them with any sneakers really, but Eleven had those long striped socks ($8) that didn't match anything, but probably kept her feet warm.
Waffles
Eggo Waffles, $4, Walmart
Our girl Eleven is all about those waffles, even robbing a grocery store to get herself a weekend's supply of them.
Nancy
Nancy is Mike's older sister, who starts off in the season as clueless as the rest of them. But gradually, she comes into her own strength that makes you love her and love the friendship she built with Jonathan.
Brown Suede Jacket
Faux Suede Coat, $40, Amazon
It gets cold during those Hawkins, Indiana Winters, you guys. Make sure your version of Nancy has a brown faux suede coat like this one.
Skinny Jeans
Skinny Jeans, $9, Walmart
Skinny jeans were super popular in the '80s and made a comeback several years ago and never really went away again. So you'll have no problem finding some skinny jeans to go with your Nancy costume.
A Baseball Bat
Baseball Bat, $20, Amazon
Nancy's first defense against the creatures from the "upside down" is her trusty baseball bat, so it's an essential part of being Nancy for Halloween.
Steve
When you first watch Stranger Things, you expect Steve to be the typical '80s movie jock who only cares about getting laid and looking cool. But halfway through the season, something happens and Steve is actually a guy you can't hate, because he actually cares about Nancy and wants to help both her and Jonathan.
A Sweatshirt
Green Sweatshirt, $7, Walmart
There is nothing super complex about Steve's wardrobe on Stranger Things, but don't forget a dark green sweatshirt with the sleeves rolled up.
Khakis
Khaki Pants, $20, Amazon
Because this is the '80s, remember? Steve's pants of choice are not going to be perfectly fitted, dark-washed jeans of the youth of today, but instead some casual khakis.
Hair Sculpt Paste
Hair Sculpt Paste, $6, Target
Do you think he gets out of bed every morning with his hair looking that fly? To get the real effect, get some hair sculpt paste and mess around with it until you have the soft but styled locks of Steve Harrington.
Barb
You remember her, right? The other person who got sucked into the upside down, but who no one cared enough about to save? Ok, that's not entirely true, since Nancy did want to find her best friend, but the poor girl kicked it early on in the other dimension. Still, she remains something of a legend when it comes to Stranger Things.
Ruffled Blouse
Ruffled Blouse, $14, Amazon
Yeah Barb didn't get too much of a break when it came to fashion for the character. Especially with her ruffled shirt that had no business not being in a bonfire somewhere.
The Jeans
High-Waist Jeans, $36, Amazon
Barb wasn't afraid to speak her mind, but she was also pretty demure (and kind of nerdy) when it came to fashion. Thus, wearing some familiar high-wasted jeans most of the time.
Those Glasses
Round Glasses, $12, Amazon
I get it — those are the glasses of that time, but really? Did they have to do that to her?
A Short Red Wig
Red Wig, $16, Amazon
And if you can get your hands on a good red wig with short hair, it will kind of pull the whole costume together.
Mike And Co.
Now, this could include Mike, Lucas, Dustin, and Will, or just the first three. Either way, you need to have at least a few to really get the picture. These kids are what drove the entire first season of Stranger Things, through their bravery and their inability to give up on their missing best friend.
A Dungeons & Dragons T-Shirt
Dungeons and Dragons T-Shirt, $20, Twice the Tee's
Any vintage-looking Dungeons & Dragons t-shirt will do to portray really any of the boys.
Simple, Wide-Brimmed Baseball Cap
Baseball Cap, $12, Amazon
Fan favorite Dustin usually wears one, so if he's your guy, aim for a similar baseball cap.
Tan Jacket
Tan Jacket, $19, Walmart
All of the boys each have a tan jacket, which is a luckily pretty neutral color and easy to come by for the costume.
A Banana Seat Bike (If You Want To Be Super Dedicated)
So it might be hard for your kid to deal with a bike all night during trick-or-treating, but on the other hand, it might ensure that they don't get tired before their pillowcase is full.
Making a Stranger Things inspired Halloween costume for your kids or even yourself doesn't have to mean spending insane amounts of money or giving up and hitting up the party store down the street. But it can be the difference between being a regular mom and a cool mom.