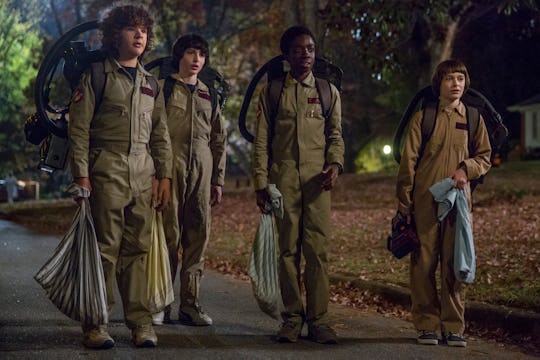 Netflix
Pack Your Bags! 'Stranger Things' Is Coming To Universal Studios' Halloween Horror Nights
Have you ever wished you could visit the town of Hawkins? If you're a fan of Stranger Things, of course you have. Well, it looks like you might have your chance in the very near future, and I'm honestly so excited I can barely stand it. Because Stranger Things is coming to Universal Studios this fall, and I'm already looking up flights to Hollywood. But it looks like I'll have to be quick about it, since it's only for a short period of time.
This upcoming Halloween season, to be exact; Universal Studios announced on Tuesday that it will be partnering with Netflix and the creators of Stranger Things (Shawn Levy, Matt Duffer, and Ross Duffer) to recreate integral scenes from Season 1 of the wildly popular series for Halloween Horror Nights. The new themed attractions will be on display at Universal Studios in Hollywood, California and Orlando, Florida as well as Universal Studios Singapore.
So if you've always wanted to experience what Will Byers saw during his brief, unfortunate visit to the Upside Down or go toe-to-toe with a Demogorgon, it looks like your chance will come soon enough. For me, I'm hoping Universal Studios might fork over some dough to clone David Harbour so that each of the three parks has their own version of Chief Hopper. But I think that's probably not in the cards.
According to a statement from Universal Studios, as Variety reported, there will be plenty of other amazing experiences on deck for Halloween Horror Nights:
From the menacing Hawkins National Laboratory, under the U.S. Department of Energy, to the Byers home adorned with an display of flashing Christmas lights and the eerie Upside Down woods oozing a shower of floating orb-like spores, the chilling new mazes will offer surprising twists and unexpected turns around every corner.
Now if you're worried that Universal will make the event too tame, or you might get bored visiting Joyce Byers' place and trying to communicate with her son, have no fear (or actually, probably have lots of fear). Because Entertainment Weekly noted that Universal Studios also promises to bring "the chittering, predatory Demogorgon to Halloween Horror Nights to stalk unwitting guests as they encounter iconic scenes, characters, and environments from the mesmerizing series."
You know what this could mean, don't you? Barb could maybe come back.
Whether or not you'll get to see Barb (or even better, Barb from the Upside Down on account of it's Halloween and supposed to be spooky), Halloween Horror Nights is obviously going to be the absolute best.
In the past, Halloween Horror Nights has featured haunted houses and mazes to represent such pop culture classics as Rocky Horror Picture Show, The Walking Dead, Cabin In The Woods, and The Shining. All great and genuinely frightening, obviously, but there's just something different about Stranger Things, I think. Something authentic and magical and frightening and sweet all at the same time. Maybe it's Eleven, or maybe it's Will, Dustin, Mike, and Lucas, the boys who sort of anchor the entire town of Hawkins with their misadventures. Whatever it is, I'm sure people are going to be lining up for Halloween Horror Nights starting on Sep. 14 in Hollywood and Orlando and Sept. 29 in Singapore to spend a little time in the Upside Down with the gang.
And with any luck, dancing Hopper.
So get ready to dust off the old Ghostbusters costumes, or your best Eleven ensemble complete with bloody nose and shaved head. Pack some Eggos in your purse, and get ready to visit Hawkins. It's going to be amazing, unless a Demogorgon jumps out at me or something. And then I'll die forever.
Check out Romper's new video series, Bearing The Motherload, where disagreeing parents from different sides of an issue sit down with a mediator and talk about how to support (and not judge) each other's parenting perspectives. New episodes air Mondays on Facebook.