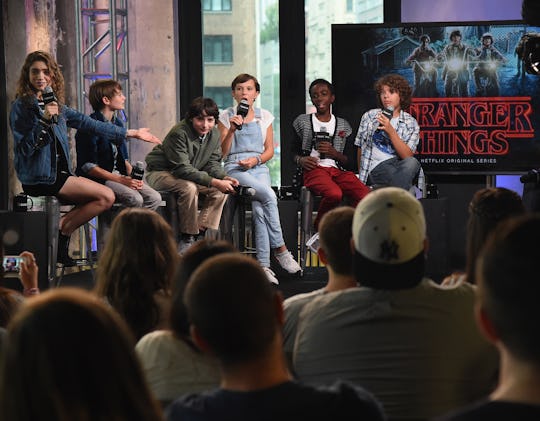 Michael Loccisano/Getty Images Entertainment/Getty Images
'Stranger Things' Kids Make Up Lyrics To The Theme Song And The Show Just Got Even Better
If you haven't seen Stranger Things on Netflix yet... well, I simply don't know what to say to you. On the one hand, I'm sort of jealous. You still get to experience it all for the first time. On the other hand, someone is definitely going to spoil the surprises for you, and this is simply unacceptable. Because Stranger Things is pure, nostalgic, simple magic. And probably the most magical part of the show has to be the kids at the center, who are apparently just as adorable in real life. The Stranger Things kids made up lyrics for the theme song and yes, it's as quirky, irreverent and adorable as you might expect.
While most of us will recognize the theme song to Stranger Things as being dark and deliciously foreboding (ok, also maybe a bit synthy in a purely 80s way), it doesn't have lyrics. Why? Possibly because the world was waiting for these kids to give the song some good old-fashioned ad-libbing spice. Gaten Matarazzo, Caleb McLaughlin, and Noah Schnapp shared some possible lyrics with Entertainment Weekly, and they go a little something like this:
"Will is gone. He's dead. J.K.; he's not. Barb is dead. Ha!"
Gaten Matarazzo, who plays my personal favorite character Dustin (he of no front teeth and the adorable lisp), took the lead on vocals while Caleb McLaughlin (Lucas), and Noah Schnapp (Will) played the theme song in the back to keep the beat. No word yet from the creators of Stranger Things whether the theme song, which was written by Michael Stein and Kyle Dixon, will be updated to include these brilliant lyrics (which, I assume, would be played on a loop throughout the opening credits). I must admit, while I did enjoy the new lyrics, I was wondering if Eleven might have added a little je ne sais quoi to the song. Or if she would have simply scoffed and filled up on waffles; I guess we'll never know.
Stranger Things, which managed to come out as the breakaway Netflix hit of 2016 based on sheer word-of-mouth, it seemed, has been renewed for a second season. Which means more Winona Ryder (did anyone else realize how much they missed her?), more Eleven (we hope), and more of The Gang (Matt, Will, Lucas, and Dustin). While Matt Duffer, the creator of Stranger Things, hasn't said much about the expected release date of Season Two, he has released a list of episode titles that could mean just about anything. Duffer also said:
"Season 1 actually takes place over the course of six or seven days - it's a really short period of time. So part of what we want to do with hypothetical Season 2 is to explore the repercussions of everything that happened."
Do what you need to do, Duffer. But please, do it fast.