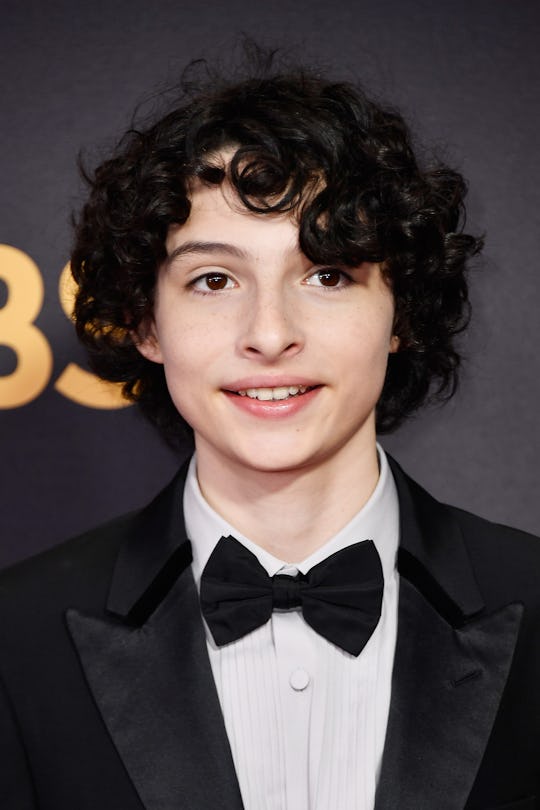 Frazer Harrison/Getty Images Entertainment/Getty Images
'Stranger Things' Star Finn Wolfhard Fires Agent After Sexual Abuse Allegations Surface
Over the past week, the words "me too" have been spoken by your friends, family members, and favorite celebrities, and it's been both heartbreaking and eye-opening to hear these things. There is so much to be said about this movement and wave of allegations of sexual abuse made against high-powered Hollywood executives, but — for reasons that are understandable — it's hard to say anything. In the past week, though, celebrities have used their platform to make the necessary stand. For example, on Friday, Stranger Things star Finn Wolfhard fired his agent over sexual abuse allegations.
Romper has reached out to Wolfhard's former agent, Tyler Grasham, for comment, but has not heard back at this time.
Wolfhard, who is just 14 years old, reportedly fired Grasham, according to The Hollywood Reporter, after a "string of claims" were made that Grasham had allegedly "sexually assaulted or acted inappropriately with young aspiring male actors." Grasham was reportedly placed on leave from the agency, sources told The Hollywood Reporter, and the allegations were being investigated by an independent investigator.
"APA takes these allegations seriously and is currently looking into the matter," an APA spokesperson told The Hollywood Reporter on Friday. Later that evening, Entertainment Weekly reported that Grasham had been fired from the agency.
APA representative, Manfred Westphal told Romper in a statement:
APA takes these allegations extremely seriously and the matter is being investigated. Tyler Grasham's employement with APA has been terminated, effective immediately.
The allegations first stemmed from when actor and filmmaker, Blaise Godbe Lipman, shared his own #MeToo story with the world in a public Facebook post accusing Grasham of sexual assault. Other men have come out with allegations of their own, following Lipman's allegations, according to The Hollywood Reporter. Romper has reached out to Lipman for further comment.
In the Facebook post, Lipman wrote that he experienced sexual assault "at the hands of a man in a position of power in the entertainment industry." Lipman stated that his reason for speaking out was inspired by other people in Hollywood who were doing the same. Lipman wrote on Facebook:
The positive thing about the attention that the Weinstein scandal has had, is it's no longer about Harvey. The conversation has moved on to the size of this epidemic and how to dismantle the system that protects these predators. And it's given space and courage for victims to speak up, against the abuse. This is bigger than Weinstein.
After Hollywood producer Harvey Weinstein had been accused of alleged sexual abuse in an exposé published The New York Times nearly two weeks ago, dozens of women in Hollywood have since come out with their own powerful and harrowing accounts. It was these allegations that inspired actress Alyssa Milano to ask people to write "me too" on social media if they had ever been sexually abused or harassed. The #MeToo campaign had originally started by advocate Tarana Burke 10 years earlier, according to The Boston Globe, to let women of color know that they were not alone.
In the days that have followed, scores of people — from friends, to celebrities, to people like Lipman whose stories might have gone unnoticed — have used "me too" to share their own stories with the world. "We are going to be vocal until this stops," Milano told Good Morning America on Thursday. "Not one more. It stops here."
Because of Lipman's allegations and the story he shared, people like Wolfhard were able to take a stand. The response to Wolfhard's actions, by fans on Twitter, show that he is nothing but supported during what is more than likely a difficult time.
Indeed, Wolfhard's reported actions show that he is taking a stand against these claims, but they are just one small, but impactful contribution. There is still so much that can and needs to be done and celebrities and everyday people alike can learn from that standard.
Lipman wrote on Facebook that now is the most important time to hold the entertainment industry accountable for their actions. "Personal accountability to those who abuse their power is crucial, however holding these people accountable can not solely rest on the shoulders of victims," Lipman said in the post. And Wolfhard's actions are an example of this.