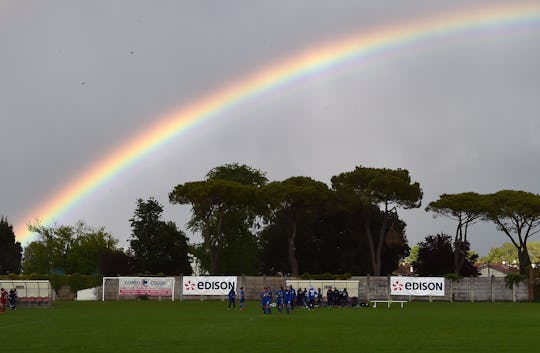 Giuseppe Bellini/Getty Images Sport/Getty Images
What These Strangers Did For An Autistic Boy Will Warm Your Heart
Not everyone in this world steps up in a crisis. When parents die, children can be frightened, lonely, lost... alone. The world can be a dark, unfriendly place. But not today. Today is a good day to celebrate the milk of human kindness, especially when it comes from the most surprising places. These strangers did the sweetest thing for an autistic boy, for no other reason than they wanted to do a little good on this planet.
Nine-year-old Robbie Ecuyer sadly lost both of his parents within 23 days of each other. His mother died at the beginning of May of complications from gastroparesis (a condition that affects the stomach muscles) and cystic fibrosis; his father lost his battle with addiction by the end of the month. His aunt, Crystal Skawinski, took over custody of her grieving nephew in the wake of his parents' deaths. In an interview with People, Skawinski explained that Robbie is on the autism spectrum and has struggled to come to terms with the monumental loss:
He misses his mom and dad and he doesn't always comprehend that they're not going to come back. He just thinks his mom is in the hospital and his dad is at work—counselors told me that that is to be expected with autism.
In the time since Robbie lost his parents, it seems that rainbows have been appearing near his home in Cohoes, New York. His aunt said that he took comfort in the appearance of the rainbows... but when they began to disappear, Robbie got upset. So his aunt decided to bring the rainbows to him: she took to Facebook and Twitter to ask people from all over the world to share pictures of rainbows to show her nephew. Starting the hashtag #rainbowsforrobbie, Skawinski wrote that Robbie has:
been told his parents have gone over the rainbow bridge and he looks for them eagerly. Robbie is autistic. I love showing him rainbows so if anyone has any rainbow pics ( especially double rainbows) you can always message me or put it in the comments. Then he can see rainbows around the world. The more the better. I will be making a scrapbook of the ones I receive. Please leave your state or country with the pic so I know where it came from.
She asked... and the internet answered.
Strangers from Holland, Ireland, Canada, Scotland, and all over the United States sent pictures of rainbows to Robbie via Twitter.
People just wanted to remind a frightened, sad little boy that he was loved. People from all over the world took a moment out of their day to care about him, to think about him, to take a picture of a rainbow and send it to him, so he might remember his parents crossing over the rainbow bridge, and feel a little less alone. To date, Skawinski's Facebook post has been shared more than 6,000 times. Robbie has received thousands of rainbows from around the globe, and more are surely to come.
His aunt hopes to put together all of the rainbow pictures in a slideshow and set them to music. Hopefully, in some small but significant way, Robbie will find peace and comfort in the kindness of these strangers.
It's a good day to be a human.