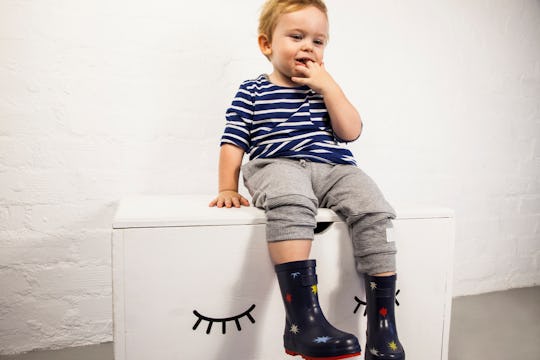 Luka Storm/Cultura/Getty Images
Here Are 25 Stylish Sweatpants Your Toddler Won't Even Mind Wearing
When it comes to low maintenance clothing for little kids, you really can't beat a good pair of sweatpants. They're almost impossible to wrinkle, which means you can ball them up in a diaper bag and they'll still come out looking freshly pressed (well, kind of). They mix and match well with other kids' clothing — like tops and sweatshirts — and are a match made in heaven with a pair of sneakers. So if you're looking for a pair for your kid, these 25 stylish sweatpants for toddlers can keep your kid sporty and stylish.
Apart from their adaptability factor, sweatpants are also an excellent option if your child is learning to dress themselves. Similar to the easy up, easy down of a pull-up diaper, sweatpants are perfect for that "I do it!" stage where your child wants to dress themselves but can't handle buttons or zippers. You never really have to worry about them being scratchy or stiff, and they're always comfortable, which is perfect for a kid who wants to run, climb, and jump. Best of all, comfy doesn't always have to mean sacrificing style. These 25 stylish sweatpants for toddlers will keep them comfortable as they climb the monkey bars — and all up their way up the style ladder, too.
We only include products that have been independently selected by Romper's editorial team. However, we may receive a portion of sales if you purchase a product through a link in this article.