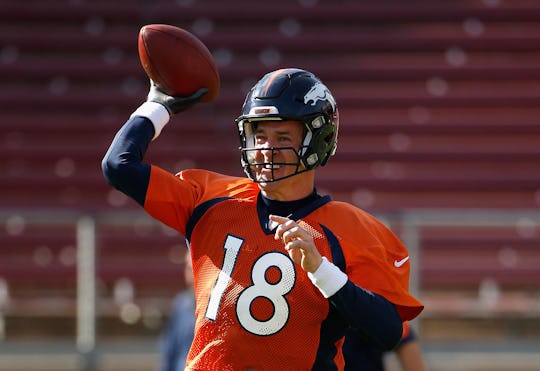 Ezra Shaw/Getty Images Sports
Super Bowl 50 Memes Show That People Were All About The Food
Super Bowl 50 began late afternoon Friday, and fans were definitely freaking out. The Carolina Panthers played the Denver Broncos in Levi's Stadium in Santa Clara, California, and it was supposed to be an epic face off between football legend and Broncos quarterback Peyton Manning and talented Panthers newcomer Cam Newton. Fans of both teams couldn't handle the excitement, so they ate lots of food and drank lots of beer. But, even better, they created some amazing Super Bowl 50 memes.
Lady Gaga sung the national anthem for the event and Beyoncé performed with Coldplay during the Super Bowl 50 Halftime Show, according to CBS News. The game was available to stream live on CBS Sports — something those who are too lazy or cheap to pay for cable were very happy about (definitely not talking about myself here). Both streamers and those watching on cable could see the game, but, more importantly, both could also watch the Super Bowl commercials, which many non-sports lovers enjoy even more than the actual sports stuff (again, not talking about myself, I swear).
But, in my humble opinion, the best thing to come out of Super Bowl 50 was obviously the memes. Funny memes about Manning, funny memes about the Panthers, memes about Beyoncé being a queen, and memes asking "Why is Coldplay even here?" Here are the best memes from the night.
Memes About The Teams & Players
Memes About Food, Because, Duh
Memes About The Commercials
Memes About Performances
Random Political Memes?
Super Bowl 50 saw exciting moments including Beyoncé halftime performance (where she also announced the Formation World Tour!) and a tense back and forth between the Panthers and the Broncos.