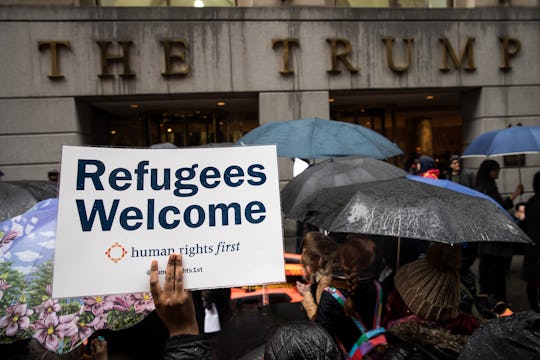 Drew Angerer/Getty Images News/Getty Images
Supreme Court Edits Trump's Travel Ban With An Important Change For Families
On Wednesday, the Trump administration was dealt yet another blow to its controversial travel ban. The Supreme Court ruled the travel ban must exempt grandparents, meaning that the United States must continue to allow them entry, upholding a lower court's ruling on an expanded definition of exemptions for relatives. The Trump administration's travel ban targeting six majority-Muslim countries and refugees went into effect on June 29. Earlier that month, the Supreme Court had ruled Trump's travel ban could go into effect, but only in a limited form. Individuals with no connection to the United States could still be barred entry, but individuals with a "bona fide relationship" to a person or entity such as a job or a school must be exempt from the ban.
Following the June Supreme Court ruling on the travel ban on June 26, the U.S. Department of Justice took "close familial relationships" to mean only parents, children, spouses, siblings, half-siblings, step parents and step children, and parents-, sons-, or daughters-in-law. On Thursday, Hawaii's U.S. District Court Judge Derrick Watson issued a ruling to expanding close familiar relationship exemptions to include grandparents, grandchildren, brothers- and sisters-in-law, aunts, uncles, nieces, nephews, and cousins.
Wednesday's SCOTUS ruling allows Watson's order expanding the list of exemptions to remain in place — and must be enforced by the U.S. Department of Justice.
Trump's travel ban — all two versions of it — has been tied up in federal courts since January. After his first travel ban failed, Trump unveiled his second attempt at a travel ban in March. At stake in the courts was the constitutionality of the travel ban. The U.S. 4th Circuit Court of Appeals ruled that it was unconstitutional, stating that even though it was classified as a "travel order" through Executive Order as president, Trump called it a Muslim ban on the campaign trail, proving that the intention of the order violates the First Amendment.
Meanwhile, the 9th U.S. Circuit Court of Appeals upheld an injunction against the travel ban on June 12, which prompted the Supreme Court to intervene at the behest of the DOJ later that month, overturning the 9th Circuit's injunction. With Wednesday's ruling, the Supreme Court has now kicked the "close familial relationship" issue back to the 9th Circuit Court for final resolution — and, just so we're clear, that court will only be defining exactly which relationships the government deems "close" in relation to the travel order. Yeah, I know — it's a lot.
Even then, the case against Trump's travel ban still isn't over as. On Wednesday, the Supreme Court released its fall schedule, and SCOTUS will hear oral arguments on the travel ban in October. However, given that the parts of the ban that have been allowed to remain in effect are only temporary, there's a chance the DOJ could drop their case before October altogether.