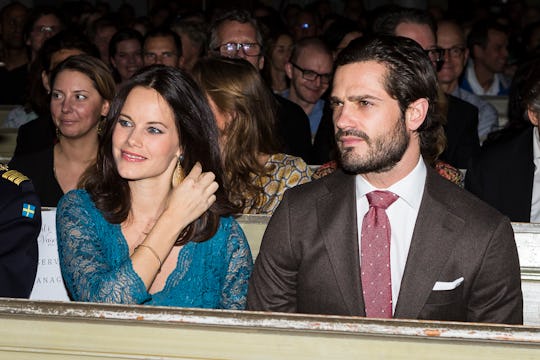 Michael Campanella/Getty Images Entertainment/Getty Images
Sweden's Prince Carl Phillip & Princess Sofia Welcome A Baby Boy To Their Royal Family
I have two things to tell all of you about Sweden today; first of all, Princess Sofia and Prince Carl Philip welcomed a new baby boy on Tuesday. Second, the royal couple is insanely beautiful and I might need to go check out Sweden, because how have I not been obsessively Googling this couple already? Well, I suppose there's no time like the present, especially now that they will be adding a little baby to their posse.
According to a statement released by Sweden's Royal Palace:
On Tuesday April 19 at 6.25 p.m., Princess Sofia gave birth to a son at Danderyd hospital in Stockholm.Weight: 3595 grams Length: 49 cm. Both mother and child are in good health.Prince Carl Philip was present at the hospital throughout the birth.
While the press release did not release the sex of the child, a congratulatory message released on Twitter by Princess Sofia's sisters Lina Hellqvist and Sara Hellqvist referred to the baby as "their nephew":
We welcome this tiny new member of the family with great joy and love. We have been looking forward to becoming aunts, and we will enjoy getting to know our nephew. We wish the new family the very best of luck.
This new little boy will be fifth in line to the throne of Sweden, after Crown Princess Victoria (his aunt), Victoria's children, Prince Oscar and Princess Estelle, and his own father, Prince Carl Philip. As a little aside here, how much do you love the names Oscar and Estelle? It should be exciting to find out what Princess Sofia and Prince Carl Philip will be naming their little one.
Prince Carl Philip was present at the birth of his little boy and looked appropriately, adorably disheveled at a press conference at Danderyd Hospital in Stokholm, telling reporters: "For me and my wife, this is obviously a great day with a lot of emotion. Words cannot describe."
Princess Sofia and Prince Carl Philip, who also carry the titles Duke and Duchess of Värmland, have been a couple since 2010, and they married in June 2015. The princess is a former model who spent time studying business in Manhattan before returning to Sweden, becoming a reality television star and eventually marrying a handsome prince (which pretty much sounds like an awesome Sex And The City episode to me).
And check out the prince she married. He looks like Eric Bana when he played doomed Prince Hector in Troy, but actually even a little cuter.
Of course, one of the coolest things about the royal son of King Carl XVI Gustaf of Sweden? He has a long history of being genuinely adorable with kids, which bodes well for his parenting skills. Check out this Instagram shot of him having fun with his business partner's little boy.
To make parenting even easier, the prince also comes from a rock-solid royal family, who support each other at every turn. The new prince is clearly going to be a well-loved, adorable little boy. Now let's all hold our collective breath in anticipation of the next release of pictures and (hopefully) the baby's name.